The first Red Flag-Nellis exercise of 2023 kicked off on Jan. 23, and will continue through Feb. 10.
Close to 100 aircraft and 3,000 coalition service members have arrived at Nellis Air Force Base, Nev., to participate in the large force air combat training exercise centered on readiness and interoperability between joint and allied forces.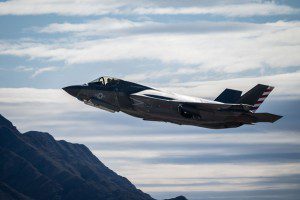 "In our 48th year Red Flag, participants will build confidence under fire, integrated leadership, and a warfighter culture that will win our nation's fights," said Col. Jared Hutchinson, 414th Combat Training Squadron commander. "Each flag pushes state of the art to a new level by building on the efforts of previous Red Flags. In this iteration, the allied force will be presented with many new and emerging real-world tactical problems."
Aligning with the 2022 National Defense Strategy, Red Flag-Nellis 23-1 will focus on the Indo-Pacific Theater and the pacing challenge alongside our allied partners.
"Our allies are one of the greatest strategic assets we have in protecting our nations," said Hutchinson.
During Red Flag 23-1, Nellis will welcome close to 3,000 participants from all branches of the U.S. military service, and from the Royal Air (U.K.) and Australian Air Forces. The 355th Wing from Davis-Monthan Air Force Base, Ariz., will take command as the lead wing over the participating aircraft, including the F-35 Lightning II, F-22 Raptor, B-52 Stratofortress, and the Australian E-7 Wedgetail.
This long-standing, large force exercise provides service members with experience and opportunities to learn in a safe training environment.
"This year is expected to be challenging as it prioritizes young operators," said Hutchinson, "it enables them to learn in the world's best combat training environment while writing the next chapter of our resilient heritage."
Nellis has hosted Red Flag exercises since 1975 to provide aircrews the experience of multiple, intensive air combat sorties in the safety of a realistic training environment. The training occurs at Nellis AFB and on the Nevada Test and Training Range, the U.S. Air Force's premier military training area with more than 12,000 square miles of airspace and 2.9 million acres of land.