The Royal Air Force's Voyager aircraft is taking part in Red Flag-Nellis 23-1, Jan. 23-Feb. 10, 2023.
Red Flag is a major coalition military exercise that takes place at Nellis Air Force Base and on the Nevada Test and Training Range.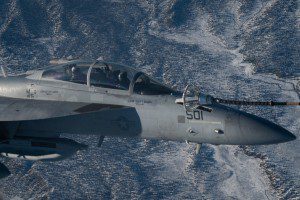 The Voyager plays a crucial role in meeting the pacing challenge and supports the United States and allied air forces to overcome the tyranny of distance. Throughout the three-week long exercise, it will fly twice a day refueling U.S. Marine Corps F-35B Lightning IIs, RAF FGR4 Typhoons and Royal Australian Air Force EA-18G Growlers.
"Red Flag provides the highest possible level of planning and training with our coalition partners," said RAF Air Commodore Howard Edwards, Combat Air commander. "Here we are exposed to tactics, techniques and procedures that could be used against a peer adversary, and we can practice using a full spectrum of capabilities, some of which can only be practiced over the NTTR."
The exercise provides a realistic training environment for the Voyager's aircrew, allowing them to practice and improve their skills in a simulated combat environment while maintaining their mission of providing aerial refueling for participating aircraft.
"As a key enabler for jets, exercises like this allow us to practice how we can effectively get to them, to the fight and back again also maximizing their training benefit," said Edwards.
The Voyager's capabilities give military commanders greater flexibility that allows them to respond to a broader range of scenarios. Its ability to provide aerial refueling and transportation support allows other aircraft to operate at a higher tempo and stay in the air for extended periods.
"Modern warfighting occurs across a range of environments and is almost always done in coalitions with our partners and allies," said Sqdn. Ldr. Helen Train, the RAF Voyager detachment commander. "Exercises like this allow us to meet these allies face to face and learn how we can best integrate and enable their operations."
The Voyager has proven it is a true coalition force multiplier during this iteration of Red Flag.
"The Royal Air Force Voyager's versatility and capabilities make it a valuable asset to the coalition force and its ability to provide aerial refueling and transportation support is essential to the success of the future fight," said Col. Jared Hutchinson, 414th Combat Training Squadron commander. "Its participation in Red Flag 23-1 highlights its importance in supporting the United States and other allied nations in military operations."