Senior leaders at Nellis Air Force Base, Nev., welcomed both civic leaders and honorary commanders to the base on Jan. 31, 2023, to observe the launch of U.S., joint and allied aircraft from the flight line during Red Flag-Nellis 23-1.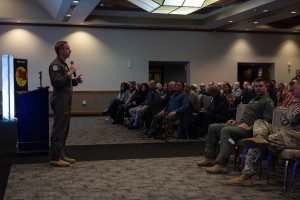 The event served as an opportunity to highlight the importance of Red Flag exercises to honorary commanders from Nellis AFB and Beale AFB, Calif. Civic leaders who witnessed the night launch got a behind-the-scenes look at the significance of these exercises. Red Flag operations provide civic leaders with meaningful insight into what happens at Nellis. These large-scale, cutting-edge exercises focus on readiness and interoperability between joint and allied forces.
"Being an honorary commander for six years, I have always enjoyed seeing how Red Flag operates at the grassroots level," said Kameron Kildea, 757th Aircraft Maintenance Squadron honorary commander. "More importantly I like to share it with others from our community and see their amazement on how everything comes together to train the worldís greatest Air Force! I appreciate every chance I get to engage with my squadron and their military counterparts."
Honorary commander programs strengthen bonds between base leaders, their personnel and leaders from neighboring communities. The Nellis program creates opportunities to educate key community members about the missions of the U.S. Air Force and Nellis AFB. Because of this program, military members have the opportunity to share ideas and experiences while also fostering a supportive relationship with the community.
"Red Flag is core to the 57th Wing Mission–'training the next generation of warfighters for the high-end fight ñ the Air Force, the Joint Force, and our allies and partners'," said Brig. Gen. Richard Goodman, 57th Wing commander. "It's an honor to showcase the capabilities of our aircraft, and more importantly our incredible Airmen, to our community partners."