Close to 100 aircraft are scheduled to depart Nellis twice a day and may remain in the air for up to five hours during this large-scale exercise.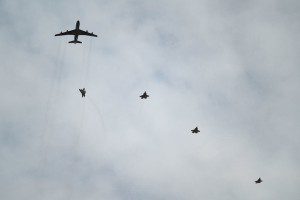 During Red Flag 23-2, Nellis will also welcome members from the U.S. Navy, Marine Corps, Space Force and Air National Guard. The various units will work together to accomplish complex mission scenarios against aggressor forces assigned to the 64th†Aggressor Squadron here at Nellis AFB. The 20th Fighter Wing from Shaw Air Force Base, S.C., will take command as the lead wing over aircraft participating, including the F-35 Lightning II, B-1B Lancer and E-3G Sentry.
This iteration of Red Flag will also include 140 Squadron from Nevatim Air Base in Israel. As a result, Saturday launches will be rescheduled to Sunday out of respect for Israeli Air Force participants' observation of the Sabbath.
Nellis has hosted Red Flag exercises since 1975 to provide aircrews the experience of multiple, intensive air combat sorties in the safety of a training environment. There are three iterations of Red Flag annually: one U.S. only, one open to FVEY (Five Eyes) participants and another that welcomes an expanded roster of international allies and partners. The training occurs at Nellis AFB on the Nevada Test and Training Range, the U.S. Air Force's premier military training area with more than 12,000 square miles of airspace and 2.9 million acres of land.