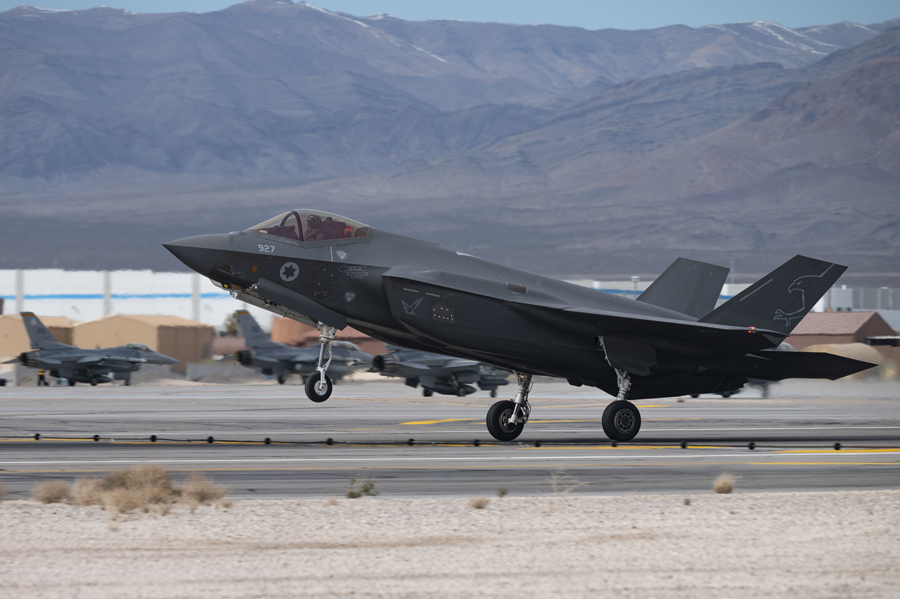 With the arrival of the U.S. Air National Guard, U.S. Marine Corps and the Israeli Air Force, the 414th Combat Training Squadron is ready to begin Red Flag-Nellis 23-2, which runs March 12-24.
Red Flag is one of the U.S. Air Force's largest combat training exercises designed to improve the interoperability of U.S. and coalition forces.
This iteration of Red Flag focuses heavily on advancing the capabilities and strengthening the alliances of U.S. European and Central Command warfighters. The Israeli Air Force brought their F-35I Adir to participate in Red Flag's unique training with an emphasis on readiness for high-end warfighting and strategic competition.
"The Israeli F-35 participation in Red Flag 23-2 is another step forward for America and its allies in the transition to the next level of air warfare," said Col. Jared Hutchinson, 414th Combat Training Squadron commander. "It's a rare opportunity for warfighters from both countries to integrate our most advanced capabilities. As the Fifth-Generation Center of Excellence, Nellis AFB is uniquely capable of hosting allied F-35 units on the ground and challenging them in the air."
With approximately 2,200 targets, realistic threat systems and an opposing enemy force that cannot be replicated anywhere else in the world, Nellis and the Nevada Test and Training Range enable combat air forces from the U.S. Air Force and Israeli Air Force to train to fly, fight and win together.
"Without our total force partners, Red Flag 23-2 would be a much smaller and a less effective demonstration of airpower," said Hutchinson. "This cross-flow of warfighter culture is something that has lasting benefits for the joint and allied participants who bring those skills back to home station and to the battlefield."
Red Flag is a contested combat training exercise involving the air forces of the United States and its allies. It was established in 1975 to better prepare our forces for combat. Lessons from Vietnam showed that if a pilot survived their first 10 combat missions, their probability of survival for remaining missions increased substantially.
"Red Flag will continue to evolve with the state-of-the-art technology in warfare," said Hutchinson. "No one is better at taking the most cutting-edge combat capabilities and applying them to the most replicative and relevant combat training scenarios in the world than the 414th CTS."