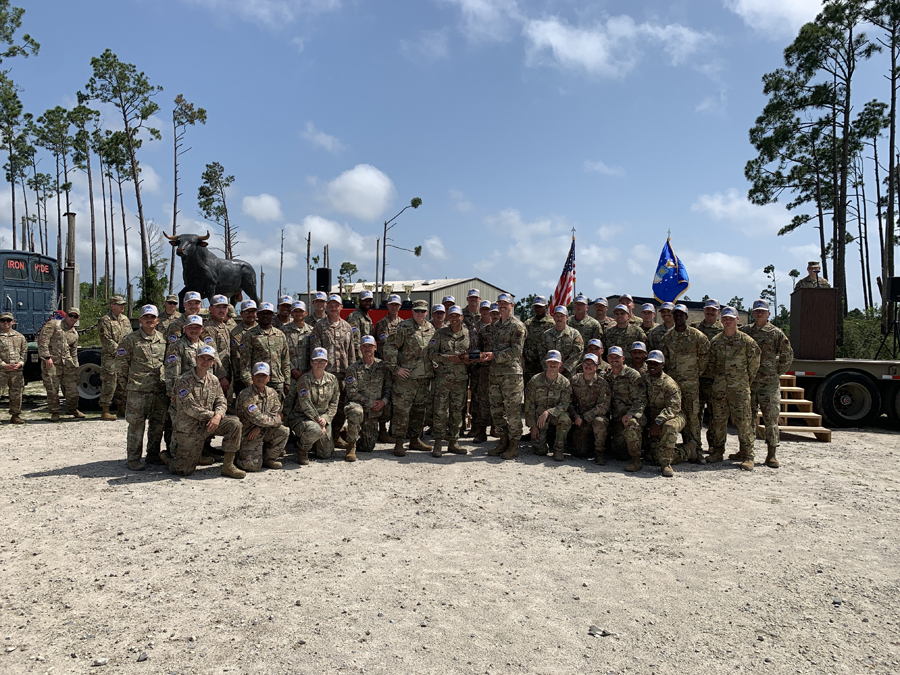 Airmen representing Air Combat Command and the 99th Civil Engineer Squadron from Nellis Air Force Base, Nev., took the title at Readiness Challenge IX, the Department of the Air Force's aEnual civil engineer skills competition, April 24 to 28.
After a weeklong competition filled with full-spectrum, integrated base response and recovery operations events between eight teams from across the Department of the Air Force, 99th CES demonstrated they were the best.
"It feels great! This was a complete team effort, because most of us didn't know each other when we started and yet here we are," said Tech. Sgt. John Seaton, 99th CES. "There wasn't a single person who didn't want to be here, there was no weak link in our chain, and if you gave me enough time, I could list every single contribution from every single person and how they elevated us to first place."
Sponsored by Air Force Civil Engineer Center and executed by the 801st RED HORSE Training Squadron, Readiness Challenge is the capstone event for DAF civil engineers. For the first time in more than 20 years it was conducted at full operational capability with more challenges and new evaluations.
"What makes this Readiness Challenge unique is that teams got to practice their multi-capable Airman skills," said Master Sgt. Austin Henrichsen, operations director for Readiness Challenge and a member of the 801st RED HORSE Training Squadron. "Instead of breaking up the teams and having the Airmen compete in tasks related to their specialties, they completed the challenges as a team. This encouraged the Airmen to teach and learn from each other on their different skill sets and grow as a team; and no other challenge is going to do that."
More than 300 Airmen competed in this year's event, representing teams from the Air National Guard, Air Force Reserve Command, Air Education and Training Command, Air Force Global Strike Command, Air Force District of Washington, Air Combat Command, U.S. Air Forces in Europe and Air Forces Africa, and Pacific Air Forces.
Resembling a deployment model, the major command teams were made up of 41 Airmen with various civil engineer skills, including electrical, power production, HVAC, pavement and equipment, structures, water and fuels maintenance systems, pest management, engineering assistance, operations managers, fire fighters, explosive ordnance disposal, and emergency management technicians, along with a civil engineer officer.
"Readiness Challenge is the most realistic training our Airmen will get in preparation for combat operations," said Brig. Gen. William Kale, AFCEC commander. "With events like these, we're prioritizing Airman readiness, ensuring the Air and Space Force lethality."
Readiness Challenge also allows AFCEC, civil engineer career field managers and leaders to assess unit readiness, find deficiencies and identify training opportunities.
"The event incentivizes and reinforces the training we develop for the career field here at AFCEC," said Senior Master Sgt. Robert Krumlinde, EOD force development manager at AFCEC. "With the help of the 801st RED HORSE we're able to deliver that training and then evaluate them here at Readiness Challenge, so it's a win-win for everyone."
Leaders say this year's FOC competition is the foundation for many more to come.
"Readiness Challenge has grown significantly since it first challenged civil engineers back in 1986," said Kale. "I expect each and every year, hereafter we will keep getting better and effectively demonstrate that the Department of the Air Force civil engineers are lethal and ready."