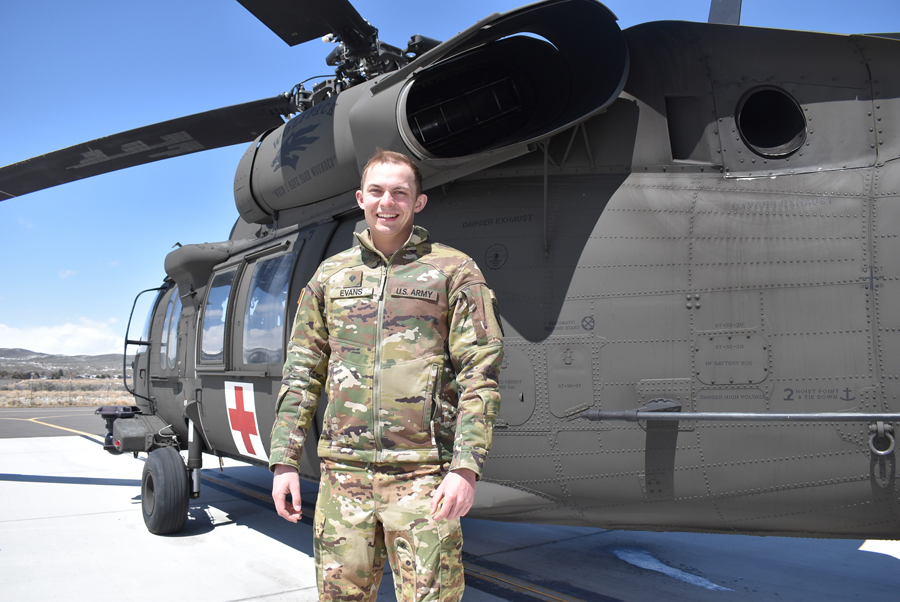 Motivated by memories of family members who never made it home from combat, Gold Star Family member Spec. Jake Evans returned from the Nevada Army Guard's Best Warrior Contest with the state's 2023 Soldier of the Year award.
Evans, 25, a critical care flight paramedic with the 2/238th Aviation unit based in Reno, earned the title of Soldier of the Year in early April after he outlasted an international field to win in the Nevada Guard's Best Warrior contest held at the Hawthorne Army Depot.
The competition tests a Soldier's fitness, marksmanship and military knowledge. This year's contest included service members from Fiji and Tonga — countries teamed with Nevada in the Department of Defense National Guard Bureau State Partnership Program.
With the win, Evans earned a trip to Hawaii to compete against Soldiers from Hawaii, Guam, California, Utah, Arizona and Colorado in the Region VII Best Warrior contest May 5-12. The Nevada Guard's Noncommissioned Officer of the Year, Staff Sgt. Alec Canepa-Teal, will also travel to Oahu for the competition.
Evans is from one of the most visible Gold Star families in Douglas County, Nev. Evans' grandfather, Norman, and great uncle, David Lynn, were killed in Vietnam and his uncle David L. (son of Norman) died in 2011 from injuries suffered in Iraq.
Evans' father, Jeff Evans, is an ardent supporter of Honor Flight Nevada and has volunteered to support Veterans on two trips to Washington, D.C., to assist veterans as they visit memorials dedicated to their eras of service.
"There is a legacy of military service in my family that I want to continue," Evans said. "The thoughts about my family members who couldn't finish out their military careers spurred my efforts."
Jake Evans said his family history even helped him decide upon his military occupation. As a critical care flight paramedic with the 2/238th, Evans is among the first to reach injured servicemembers on the battlefield.
"I opted to become a flight medic to help other families avoid becoming a Gold Star family," Evans said. "Becoming a flight medic is the best way for me to support that goal."
While pursuing his degree in International Affairs at the University of Nevada, Reno, Evans began his affiliation with the medical field by working as an emergency trauma technician at Renown Hospital.
Evans enlisted in the Nevada Army Guard as a combat medic. He also works as a paramedic for the Regional Emergency Medical Services Authority.
At the Best Warrior contest held on the 147,000 square acre depot in Mineral County, Evans caught a break when combat lifesaving skills were included as an event – one in which he excelled thanks to his military and civilian training. He also placed first among the junior enlisted Soldiers in a modified combat fitness test and first in the 12-mile ruck march, which he finished in 2 hours, 42 minutes.
There were 18 competitors, including four Tongan Marines and four Fijian soldiers. The international participants competed in an exhibition status and were not eligible for Nevada's Best Warrior title.
Before leaving for the Aloha State, Evans has a 389-page primer to read to prepare for the contest's oral examination board. He plans to devote several hours each day in the pool practicing his swimming – a likely event in the state composed of 137 islands.
"A Best Warrior contest will test you to a whole new level of your physical ability," Evans said.