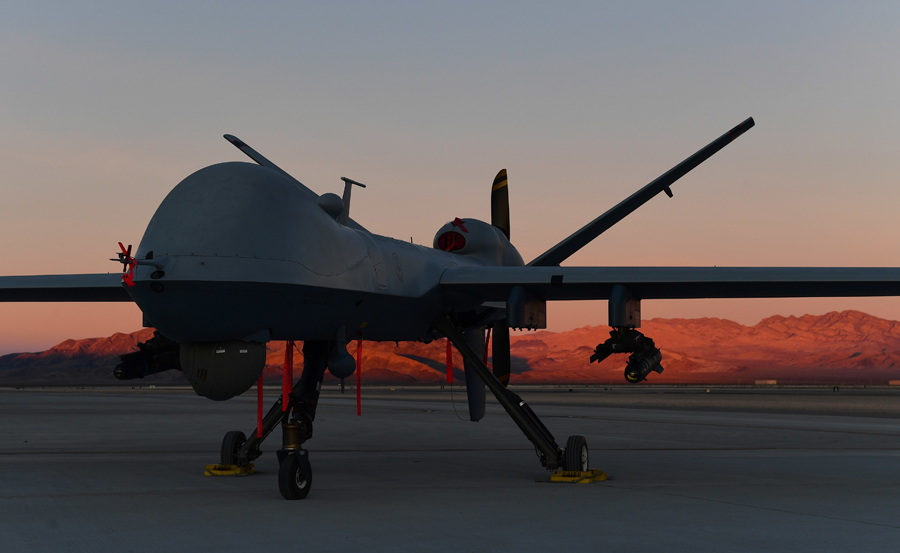 A four-day Agile Combat Employment (ACE) exercise took place at the 432nd Wing/432nd Air Expeditionary Wing from April 11-14, 2023.
ACE is an operational concept intended to ensure Airmen are ready for contingencies and able to operate from locations with varying levels of capacity and support, ensuring Airmen and aircrew are postured to provide lethal combat power across the spectrum of military operations.
"A hypothetical real-world would be lifting off from Misawa, landing in Guam to set up, bringing over a small group of people, turning the aircraft, and launching it to the next mission. That way, it would be closer to the objective that it needs to get to," said Master Sgt. Cedric Wilson, the Section Chief for Weapons at Reaper AMU and Production Super for day shift ACE operations. "It confuses the enemy as far as where we're at exactly and where we are launching from."
The exercise named Agile Talon, was the first in a series of MQ-9 Reaper ACE exercises that will take place on future dates. The exercise tested basic launching, recovering, and refueling capabilities while operating at a location with minimal footprint and equipment. The exercise also incorporated the use of a Portable Aircraft Control Station, a device used by maintainers to set up the aircraft and establish a satellite communications link before transferring control to the aircrew. The exercise aimed to test to see if, in a real-world situation, they could reduce the amount of Airmen needed and the need for a Ground Control Station for the MQ-9 Reaper.
The MQ-9 took off from Creech and stayed in the local area. It was piloted by Airmen from the 489th Attack Squadron stationed at Creech AFB and the 20th Attack Squadron, a geographically separated unit of the 432nd Wing located at Whiteman AFB, Mo. The squadrons acted as both Launch and Recovery Element and the Mission Control Element, which were previously separate crews.
The 432nd Aircraft Maintenance Squadron stationed at Creech AFB, Nev., successfully performed a PACS Satellite Launch and Recovery with the 489th ATKS and the 20th ATKS.
"Overall, we would say that the Agile Talon exercise was successful for the maintenance team," said Capt. Taylor Huang, director of operations for the 432nd Aircraft Maintenance Squadron. "We met our objectives in validating and verifying our ACE manning and equipment footprint."
He said by being part of this exercise, his team was able to highlight and correct technical data deficiencies, solidify foundation PACS launch and recovery procedures, and instill best practices while operating in a hot climate environment.