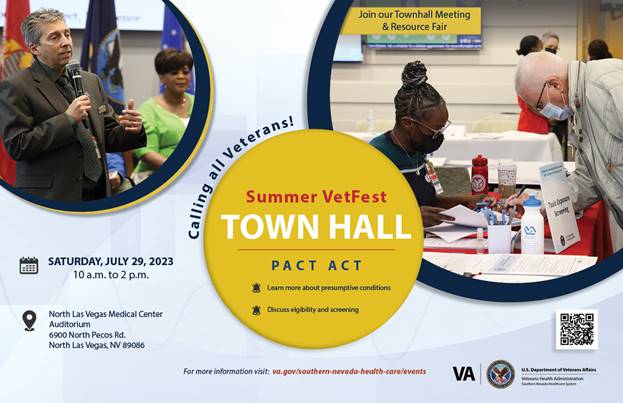 VA Southern Nevada Healthcare System in partnership with the Veteran Benefits Administration's Reno Office will host a Summer VetFest and Town Hall in the auditorium of the North Las Vegas VA Medical Center from 10 a.m.-2 p.m., July 29, 2023.
At the event, VA staff will be ready to help Veterans apply for PACT Act-related benefits (or submit an intent to file), enroll in VA health care, get screened for toxic exposures, and more. The resource fair will include representatives from: Caregiver Support Program, Community Care, Enrollment, My HealtheVet, Telehealth, and more.
This event is a part of a nationwide VA Summer VetFest campaign in July, when VA will host more than 50 Summer VetFest events across all 50 states, DC, and Puerto Rico.
Thus far, over 48,000 VASNHS Veterans have been screened for toxic exposure since the law went into effect on Aug. 10, 2022.
VA encourages all?eligible?Veterans and survivors to?file a claim?— or?submit their intent to file a claim?— for PACT Act-related benefits now. Most Veterans who do so by Aug. 9, 2023 will have their benefits, if granted, backdated to Aug. 10, 2022, the day that President Biden signed the bill into law.