The 432nd Wing/432nd Air Expeditionary Wing held a change of command ceremony at Creech Air Force Base, Nev., bidding farewell to Col. Eric Schmidt as its commander, and welcoming Col. Nicholas Pederson, July 14, 2023.
Pederson took command from Schmidt with Maj. Gen. Michael G. Koscheski, 15th Air Force commander, presiding over the event.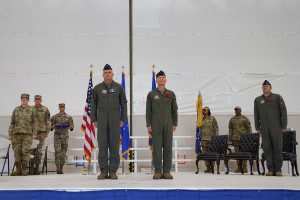 Koscheski congratulated Schmidt on his accomplishments, while welcoming the new wing commander. He also spoke about the wing and its mission.
"We are saying goodbye to a commander who led with distinction and honor," said Koscheski. "Col. Schmidt, along with his wife Heather and his children, have been an integral part of the Creech family."
Schmidt was awarded the Legion of Merit for his service to the United States as the 432nd WG/432nd AEW commander. During Schmidt's time as commander, his leadership enabled 496,800 flight hours during 20,436 sorties. He also fortified the persistent overwatch of 124,000 Afghan refugee evacuations camps. Additionally, he executed a $96 million budget fundingagile combat employment (ACE) exercises, Immediate Response Force initiatives and the accelerated adoption of satellite launch and recovery technology driving strategic competition operations in four theaters.
"To our Hunter warriors and loved ones, working with you has been the pinnacle joy of my professional career," said Schmidt. "I've been fortunate to share in some pretty amazing events from my 28-year career, but all of those pale in comparison to the time I have spent with all of you."
Pederson spoke about how grateful and excited he was to take command of the wing during his speech.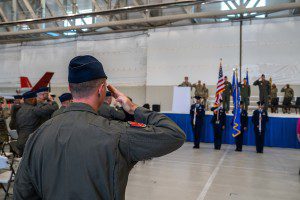 "To the men and women of the 432nd Wing, those in the audience, those who are flying the line as we speak, those in the crew rest and those deployed downrange," said Pederson, "it is the honor of my life to command this organization and to lead you."
Upon assuming command, Pederson has logged over 3,000 hours in the B-1B, MQ-1B, MQ-9, T-34, T-1, and T-3. He was also a Weapons School instructor for the MQ-1 and the MQ-9. He previously served as the vice commander of the 49th Wing at Holloman Air Force Base, N.M.
In his new position, Pederson will be in charge of over 4,000 Airmen. Their mission is to operate and support the MQ-9 Reaper Remotely Piloted Aircraft which provides intelligence, surveillance, reconnaissance and precision attack capabilities to provide critical support to combat operations and support national security.