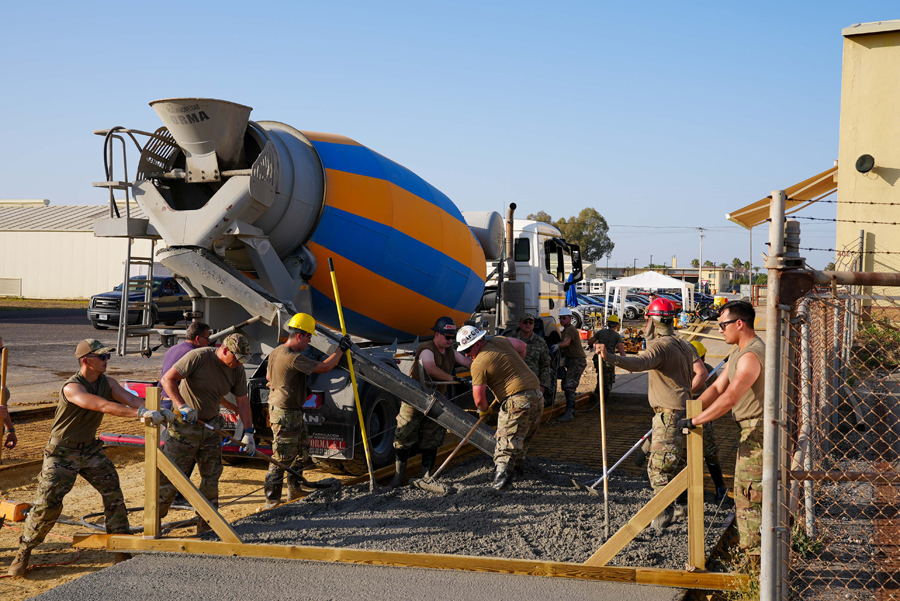 Airmen from the Nevada Air National Guard's 152nd Civil Engineer Squadron traveled to Spain for Deployment for Training June 17-July 2., 2023.
During the two-week training, the 28 engineers constructed a communications storage facility; demolished 150 yards of railroad tracks, asphalt and crushed stone to create a concrete pavement approach for an existing ramp and unloading for semi-trucks; and cleared airfield obstructions.
"The Nevada Air Guard came in and hit the ground running. They were motivated and excited to get started," said Capt. Theresa Bowie, civil engineer officer with the 201st Red Horse Squadron, Fort Indiantown Gap, Penn., and duration staff officer in charge of DFT operations at Moron Air Base.
The 152 CES faced challenges, including daily temperatures over 100 degrees, that tested their resilience and increased readiness for future operations.
"Being in another country, there is a different way of constructing buildings and a different way of laying concrete pavement," said Maj. Brent Nasset, 152nd Civil Engineer Squadron officer in charge of the DFT. "We had issues from material on-site that was available to us, and some of the design for what we were doing was not fully finished or vetted. We had to recreate and rework designs. That caused a delay because we had to buy materials off of the Spanish market. It's all metric and it's all different building materials than we're used to."
The DFT enabled the 152 CES Airmen to test and enhance their skills.
"This was my first time out of the country and it was a great experience and team effort," said Senior Airman Jordan Yurmanovic. "I was the only heavy equipment operator, and I was able to apply my knowledge to help my team and this base. It was hard and challenging work, but I am proud of what we got done in Spain."
Many of the Airmen were tested in new disciplines. Only two members of the 16-person concrete crew had experience in that specialty. Structural team members working on the communications storage building were from other specialties, including power production, plumbing and HVAC.
The training increased the civil engineers' collective capacities and versatility as a squadron, supporting the Air Force's multi-capable Airmen concept and Agile Combat Employment force elements.
"This is a great opportunity for our squadron," said Nasset. "It's a great opportunity for the members to experience something they don't normally do during home station. A lot of people were training, so that took time to get everyone spun up, but everyone worked hard to lean in and accomplish the mission."