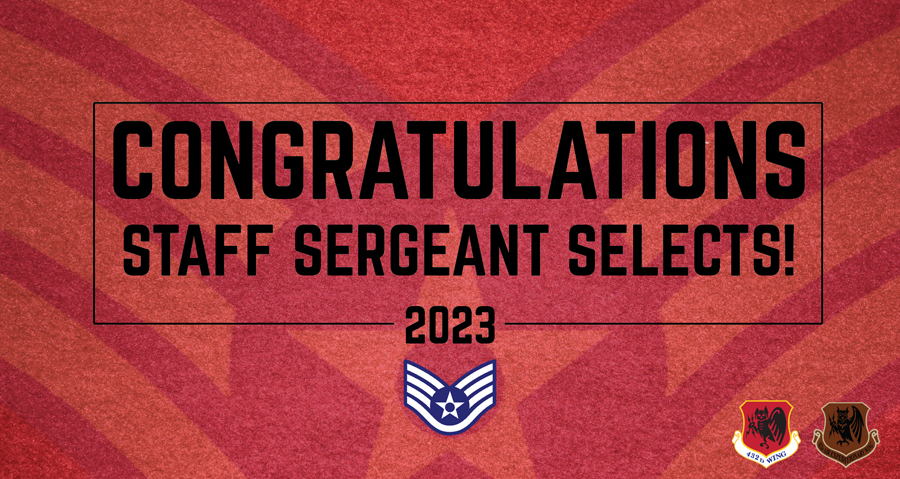 On Aug. 10, 2023, Air Force officials announced the 432nd Wing/432nd Air Expeditionary Wing senior airmen chosen for promotion to staff sergeant.
In the 23E5 promotion cycle, which includes supplemental promotion opportunities, 9,000 senior airmen throughout the Air Force were selected for promotion out of 51,717 eligible. The selection rate was 17.4 percent. The average overall score for those selected was 336.41.
Selectees' average time in grade was 2.01 years and time in service was 4.56 years.
The list below includes members of the Wing's geographically separated units throughout the United States.
15th Attack Squadron
Earl T. Cunningham
Devin M. Riggs
22nd Attack Squadron
Ashley L. Baker
Austin A. Larremore

25th Operations Support Squadron

Emmanuel L. Hopkins
Jaireem K. Ingraham
30th Reconnaissance Squadron
Mackenzie M. Lomack

44th Reconnaissance Squadron

Sheldon W. Peck
Branden S. Remigio

89th Attack Squadron

James L. Jordan

432nd Aircraft Communications Maintenance Squadron

Karla C. Franco
Riley J. Fuller
Peyton C. Pullen
Nicholas C. Roman

432nd Aircraft Maintenance Squadron

Marco A. Alejo
Brian L. Anderson
Cully J. Boudreaux
Nicholas Campbell
Michael J. Crawford
Benjamin I. Dorning
Caden A. Forisha
Christopher Grogan
Jordan S. Hogan
Benjamin A. Kincaid
Brandon J. Lewis
Prince W. McPherson
Brad A. Mikesell
Michael M. Murray
Shawn T. Papelino
Gregory A. Pierson
Christian A. Rmaon
Angel Vasquez
Michael D. Wysocki

432nd Maintenance Squadron

Brian E. Decker
Valencia Sandoval
Wyatt W. Ward

432nd Security Forces Squadron

Jamison Armstrong
Angenay T. Bailey
Elizabeth Mataiuple

432nd Support Squadron

Brian C. Day
Donald O. Schou
Tai S. Senor

432nd Wing

Tristan S. Degroat
Kristal Munguia
Deajon Y. Stevens
Juliana L. Walters

732 Operations Support Squadron

Jacob A. Griffith