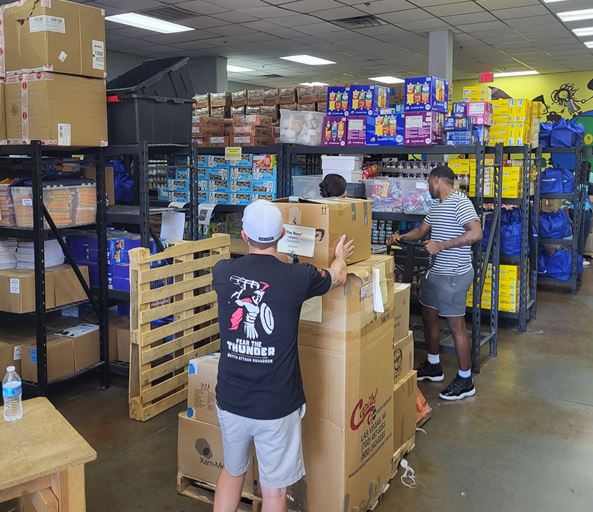 Throughout the academic year, nearly 7,500 kids throughout southern Nevada attend high school or preparatory programs to prepare them for a future beyond adolescence. They also dream of a future beyond homelessness, hunger, loneliness and despair.
Wanting to make a difference in these children's lives, members of the 867th Attack Squadron at Creech Air Force Base, Nev., recently volunteered to ensure much-needed school supplies were distributed correctly and swiftly to those in need. On Aug. 4, 2023, squadron members, known as the 'Spartans,' volunteered to aid Project 150, a southern Nevada non-profit organization that provides no-cost support and services directly to homeless high schoolers.
Led by Capt. Gregory Strasburger, the Airmen packed and loaded an assortment of school supplies from pens and notebooks to shoes and shower kits. The volunteer efforts aided Project 150 to assist them in efficiently distributing items to various schools and educational facilities before the 2023-2024 academic year kicked off.
"How can you do well in school when you don't know when your next meal is coming," said Strasburger, the squadron's project manager. "I wasn't brought up under those circumstances, and I think how rough they have it."
Strasburger mentioned when the squadron searched out volunteered opportunities in the Las Vegas area, Project 150 stuck out to him immediately.
"Once I read the mission statement in how they were helping disadvantaged high school students, I thought that would be a great way for the 867th to pay it forward."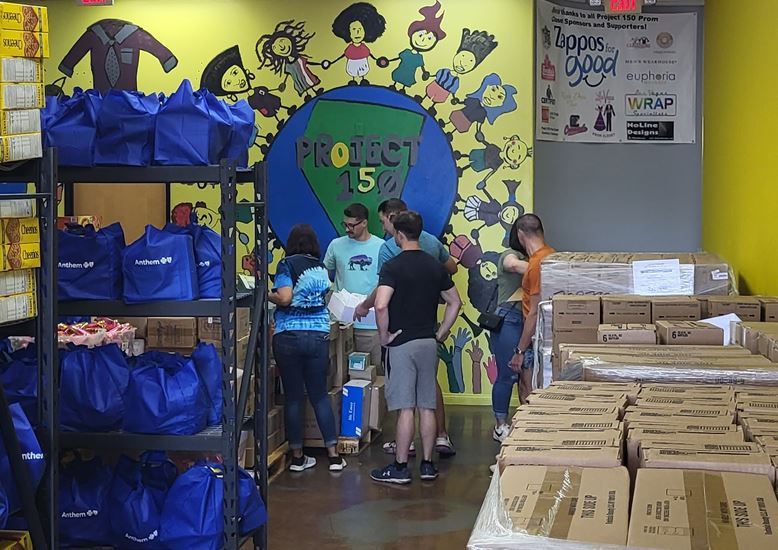 Beyond organizing and moving the school supplies, the Airmen's work also aided Project 150 staff in having supplies readily available at their new, second location in the Vegas Valley. As the Las Vegas area is rated the number one city in the U.S. for unaccompanied, unsheltered youth, Stacy Chapter, the organization's community outreach manager, said it was a "luxury" to have Airmen from Creech involved in their program.
"It's a luxury for us to have Creech involved, because when they come out, we have projects that require a lot of hands," said Chapter. "I'm always so impressed when service members take part in our programs because I can hand off a complex task knowing military members are very organized and they get it done."
Project 150's work spans across 75 high schools in southern Nevada, including neighborhood public schools, magnets, and charters. Not limited to just school supplies, the non-profit also provides grocery bags with individual food items for homeless students, ensuring they don't go hungry. They also operate a clothing boutique, allowing students access to back-to-school shopping that normally they wouldn't have. Project 150 also provides school scholarships for homeless students going to college or trade programs, providing $250,000 in support for 98 students last year alone.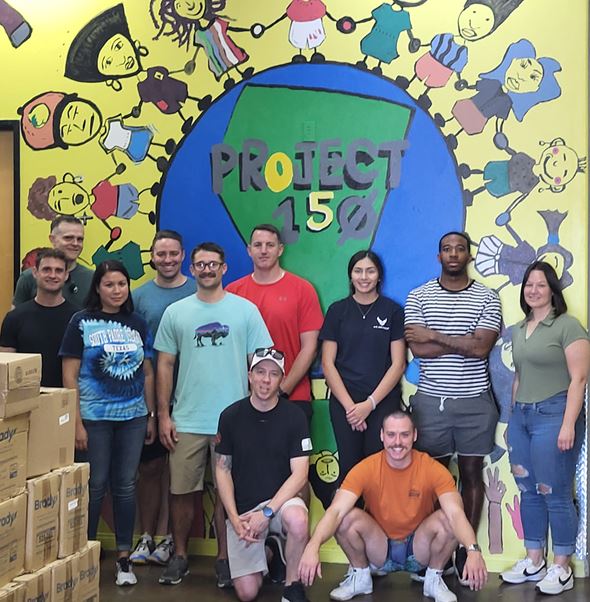 During the holiday seasons, Project 150 and volunteers also distribute 2,500 turkeys during Thanksgiving and 2,500 hams for Christmas to those in need.
"For many of these kids, school isn't just a place to go to learn," said Chapter, who has worked for Project 150 for seven years. "We work directly with the schools to keep them there through graduation. Because school is their community, it's their safe space and a place they can forget they're homeless, even if just for a while."
Strasburger said, at the end of the day, he left feeling good about the support.
"Felt like a very good opportunity to help them out. But I caveat that knowing a lot more needs to be done for these kids."
Members interested in getting involved with Project 150, or donating clothing to support their efforts, can learn more at www.project150.org.