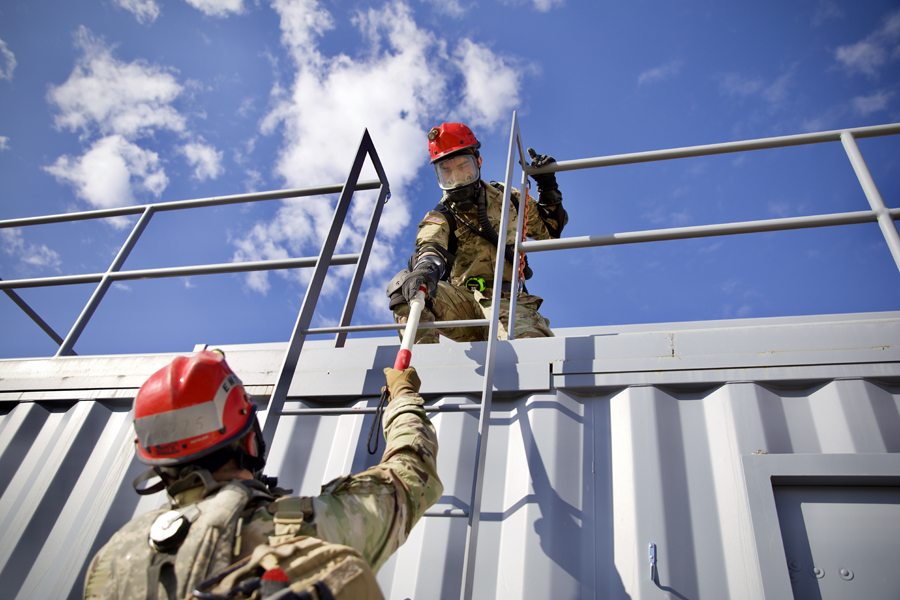 The Nevada Guard's 92nd Chemical, Biological, Radiological, Nuclear and High-Yield Explosive Enhanced Response Force Package recorded a perfect score during its external evaluation in Utah Sept. 11-14, 2023.
The CERFP's performance underscored its proficiency in handling complex emergencies and ensuring the safety of first responders and the community.
The Nevada National Guard's CERFP includes more than 200 Soldiers and Airmen from many Air and Army units who form one CERFP unit in the wake of a catastrophe.
The Nevada Army Guard's 17th Special Troops Battalion provided the command-and-control element of the evaluation and oversaw coordinated efforts. The 1864th Transportation Company managed decontamination stations and the 240th Engineer Company specialized in search and extraction operations.
The Nevada Air Guard's 152nd Medical Group provided medical support and the 152nd Communications Flight facilitated seamless information exchanges. The Arizona Guard's 162nd Wing contributed its 11-Airmen Fatality Search and Recovery Team to enhance the CERFP's capabilities and interagency cooperation.
The final day of the evaluation focused on a mock radiological event that impacted a community.
The medical element of the 92nd CERFP exhibited outstanding teamwork and adaptability, especially when the decontamination element experienced staffing shortages. Wearing hazmat suits, the medical team efficiently organized triage operations and stepped in to support the DECON unit.
"I'm very proud of every member of the CERFP," said Maj. Michael Reed, the commander of the medical element. "Everyone gave 110 percent."
Staff Sgt. Charles Julian, the noncommissioned officer in charge of the decontamination element, said his team showed remarkable spirit.
"They came in with a 'let's kill this attitude,'" Julian said. "They would uplift each other when needed and kept me motivated."
Throughout the evaluation, the unit recognized the importance of managing work-rest cycles to sustain peak performance.
"The perfect score by the NGB (National Guard Bureau) evaluators is a testament to our young Soldiers' and Airmens' dedication and their heart," said Lt. Col. Stacy Carter, the CERFP commander. "We understand our preparedness directly impacts the future safety of those we serve. Together, we've not only passed an important evaluation but also reinforced our commitment to safeguarding our communities."