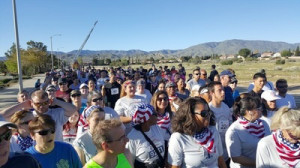 Antelope Valley Vets 4 Veterans is preparing for the 2nd Annual Operation Restart Half-Marathon and 5K/10K Run/Walk and All Patriot Mile to support veterans programs that help prevent homelessness in the veteran community.
The half-marathon, 5K/10K run/walk is set for 6-11 a.m. April 1 at the Antelope Valley Mall.
Registration and start line is in the Sears parking area.
Vets 4 Veterans, a local 501(c)3 organization, is in its eighth year of supporting veterans through scholarships, counseling, immediate needs assistance and the planning of a temporary housing solution for at-risk veterans and their families.
The homeless veteran population in Los Angeles County has risen by 6 percent over last year. 
"The warriors who defend our country deserve access to all programs that may assist them to live better," Vets4Veterans President Tom Hilzendeger said.
Like many members of the group, Hilzendeger is a Vietnam War veteran who felt called to serve the community by working actively on behalf of veterans who are facing difficult times. The group also has veterans of many other conflicts and periods of service, as well as patriotic private citizens who volunteer with the group.
"We expect to have runners who join in the 'half-marathon' to get times that can qualify them to compete in national level marathons," said Tom Armfield, a Vets4Veterans run organizer.
For opportunities to volunteer, or participate in the event as a runner, Vets4Veterans is seeking veterans and veteran supporters, families, social service community groups, sports trainers, competitive and "fun" runners, joggers, active military, 1st responders and "anyone who wants to have fun out on a beautiful Saturday," Hilzendeger said.
For more information or to register, visit www.avvets4veterans.orgActive.com.