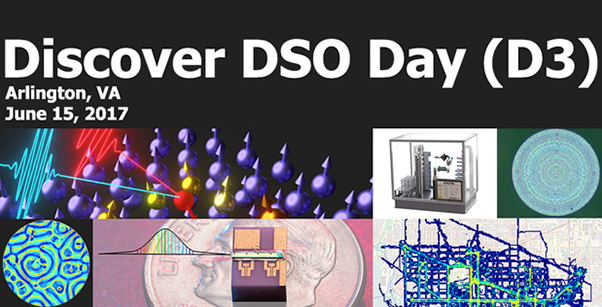 DARPA's Defense Sciences Office, which identifies and pursues high-risk, high-payoff research initiatives across a broad spectrum of science and engineering disciplines, will host Discover DSO Day June 15, in Arlington, Va.
The event is designed to familiarize potential proposers with the mission, research areas of interest, and business processes pursued by the DSO, a fundamental research office with a history of not only reshaping existing technical fields but also creating entirely new disciplines—and of transforming bold, paradigm-challenging initiatives into game-changing technologies for U.S. national security.
A special notice with details and registration instructions is available at https://go.usa.gov/x5NgQ.
"DSO is interested in creating scientific revolutions," said Bill Regli, DSO acting director. "Disruptive ideas often appear in the spaces between traditional disciplines, or at the fringe of what we think is possible. If we can identify such new phenomena, we may be able to use science to understand them and translate them into new national security capabilities and tangible products for the nation."
DSO program managers have begun to develop program concepts in the following areas and are interested in hearing ideas and insights from potential proposers:
Complexity Engineering: Understanding the principles of organization and control, transforming or harnessing complexity, and the implications of such methods. Topics of interest include complex sensing networks to protect city and metropolitan areas from chemical and biological threats and new concepts in war-gaming and conflict simulation.
Science of Design: Studying processes and methods of design, i.e., ways in which we transform a given state of the world into a better one using tools and technologies. Topics of interest relate to the creation of novel optics with metamaterials; strategies for building cameras that can capture more photonic degrees of freedom; digital representations of engineering information that can anticipate failure, evolve, and merge with other designs; and mathematical optimization and its use in design.
Noosphere: Creating, measuring, and modelling foundational questions regarding humans, human-machine interactions, and society. For example, are there new approaches to 'computation' based on human or animal social or cognitive processes and how might we understand them? We are also discussing how human perception might be a tool in modern conflict resolution.
Fundamental Limits: Creating, measuring, and modeling foundational questions of nature. We anticipate that example topics will emphasize the study of fundamental limits in natural, physical, mathematical and computational sciences using rigorous and reproducible, hypothesis-driven, scientific methods.
The format for D3 includes four types of sessions: DARPA University—designed to provide those new to DARPA a clear set of directions and guidance for working with DSO, including navigating the DARPA proposal process; Technical Short Courses—program managers will describe their current thinking in different research areas, and audience members will be able to ask questions and offer insights; Sidebar Discussions with Program Managers—by-invitation-only sessions where individuals whose executive summaries were selected under previously released Special Notice SN-17-29 will discuss their ideas with a program manager (those who've been selected have been notified; no additional sidebars will be scheduled during D3); and Potential Proposers' Poster Session—selected attendees will describe advanced capabilities and present recent selected findings to the DSO community.
A schedule in table format showing all events and titles for the Technical Short Courses is available in the Special Notice here: https://go.usa.gov/x5NgQ.
"For scientists and engineers who are looking to break out of their comfort zone and explore deep and difficult questions that have tugged at them for years—questions whose answers could change the evolutionary arc of technology in the decades ahead—DARPA offers unparalleled opportunities for support," Regli said. "We are here to cultivate big imaginations and look forward to turning some of those dreams into realities."