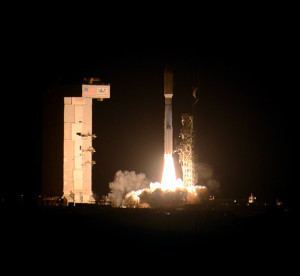 A United Launch Alliance Atlas V rocket lofted a classified intelligence-gathering payload into orbit for the National Reconnaissance Office late Sept. 23.
Since its formation in 2006, ULA — a joint venture between Boeing and Lockheed Martin — has launched 25 NRO satellites on secret national security missions using various boosters from the workhorse Atlas and Delta families.
A team of personnel from ULA and the 30th Space Wing at Vandenberg Air Force Base, Calif., successfully completed the countdown sequence at 10:49 p.m., sending the rocket into clear skies off the coast of Southern California.
Liftoff was postponed several times in recent weeks. Originally targeted for Sept. 14 the NROL-42 launch was pushed back one week to allow Florida-based ULA employees time to travel home and prepare for the arrival of hurricane Irma, and to evacuate their families.
On Sept. 21, launch officials halted the countdown to replace a faulty battery, postponing the liftoff another 48 hours.
Another unplanned hold occurred during the final countdown sequence due to an unspecified problem that cropped up just two minutes and 39 seconds prior to the new scheduled launch time. Fortunately, the ULA team was able to resolve the issue quickly. The resulting 20-minute delay was well within the available launch window.
As usual for such missions, NRO officials declined to identify the spacecraft, describing it simply as "a national security payload."
The satellite was lofted into a highly elliptical polar orbit to provide worldwide coverage. Similarities to the launch requirements and orbital characteristics of previous spacecraft, such as the NROL-34 and NROL-35 satellites that were launched in April 2011 and December 2014, have led some civilian analysts and satellite watchers to conclude that it will be used for collecting electronic signals intelligence.
Reports indicate it may also be carrying a sensor package equipped with an infrared imaging system to detect launches of enemy missiles. This capability is particularly relevant in the wake of recent threats by North Korean leader Kim Jong Un, who claims his country has developed rockets with sufficient range to deliver a lightweight thermonuclear warhead to North America.