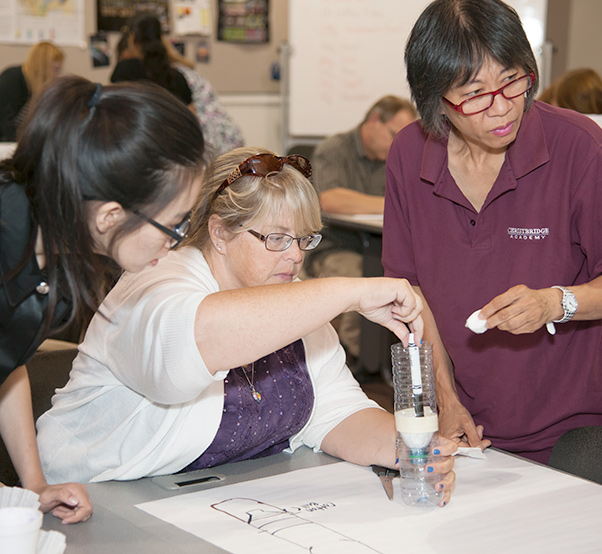 AV educators worked in teams using household items such as drinking bottles and cotton balls to build a water filtration system.
The activity was part of an Earth Science Week workshop held at NASA's Armstrong Flight Research Center's education office at the AERO Institute in Palmdale, Calif., Sept. 21.
Education specialist Barbie Buckner, who has a doctorate in mathematics education, presented the Earth Right Now workshop. Forty Southern California formal and informal educators participated in the NASA professional development opportunity.
"The purpose of doing this workshop in advance of Earth Science Week, was to prepare educators to teach their students about Earth science," stated Buckner. "Educators were also given a 2016 Earth Science Week Resource packet that included posters and classroom aides."
The workshop focused on showing educators the engineering design process that is used everyday in NASA's Environmental Control and Life Support System onboard the International Space Station.
ECLSS provides clean water and air for astronauts through a regenerative life support system that purifies the air and reclaims the water from crewmember's urine, through cabin condensation as well as the moisture that comes from astronauts' sweat and breath during spacewalks.
"I am currently planning Next Generation Science Standards lessons for my district's sixth grade," said Aneek DaGama, a sixth-grade teacher from Fulton & Alsbury Academy of Arts and Engineering in Lancaster, Calif. "This will be a perfect activity for the kids to do, and I plan on using this lab to drive my 5E lesson planning, which represents five stages of a sequence for teaching and learning."
Using NASA's fleet of satellites and its airborne science aircraft, researchers address some of the critical challenges facing our planet today and in the future such as the changing climate, rising sea level, polluting of freshwater resources and the increasing extreme weather events.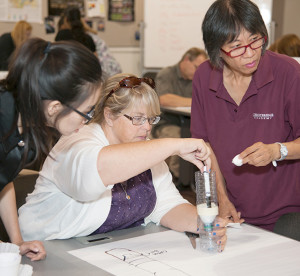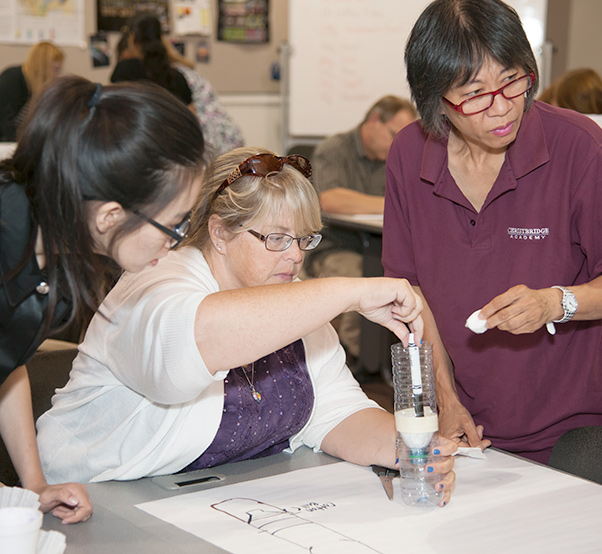 Educators learned about the agency's research efforts in CalWater that studied atmospheric rivers and IceBridge that surveyed polar Ice. Both projects are examples of NASA's Airborne Science Missions that use Armstrong's aircraft with scientific instruments onboard to study our changing planet.
"This workshop was incredibly hands on with lessons that have great extensions into mathematics and art, as well as English language arts opportunities," exclaimed Michele Browning, an informal science and art teacher at Don Benito Fundamental in Pasadena, Calif. "I had so much fun."
This activity aligns to a NASA education goal to support Science, Technology, Engineering and Mathematics educators through the delivery of NASA education content and engagement in educator professional development opportunities.