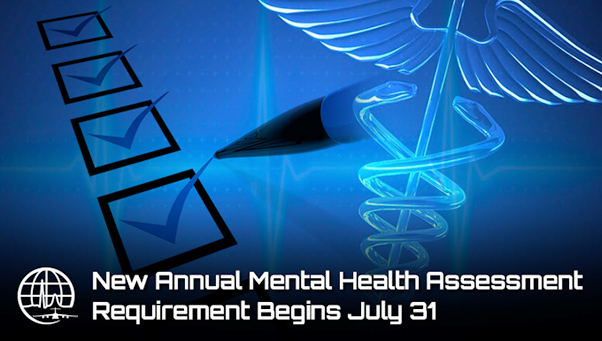 Starting July 31, 2017, Airmen undergoing their annual Periodic Health Assessment may notice something new.
A Mental Health Assessment will now be part of every annual PHA, to help ensure that Airmen suffering from undiagnosed mental health issues are referred to the necessary care.
Mental health issues are a serious problem for U.S. Armed Forces and for the Air Force. These illnesses are often not visible to others, making them difficult to diagnose and leading to unnecessary suffering. By implementing yearly screening, more Airmen in the early stages of mental illness will be identified and referred for treatment, helping them heal and improving overall medical readiness.
"This assessment gives Airmen an annual opportunity to review their mental health with a medical provider and discuss any concerns they may have," said Col Steven Pflanz, Air Force Director of Psychological Health. "Making the process routine for everyone reduces stigma and makes it easier for Airmen suffering from mental health problems to obtain care."
The annual MHA fulfills a requirement of the Fiscal Year 2015 National Defense Authorization Act, and uses established Department of Defense questions for early detection of mental health issues. The questions included in the MHA are the same that Airmen see on their pre- and post-deployment health screenings. Completing the annual MHA can even substitute for specific post-deployment screenings.
Airmen will continue to fill out the DD form 3024 online for their annual PHA, which already includes the mental health questions. Airmen will speak with a trained healthcare provider or licensed mental health professional to complete the person-to-person component. Most flight personnel will meet face-to-face, and most non-flight personnel will complete this section over the phone. 
Members of the Air National Guard and Air Force Reserve will begin the annual MHA later in August. For Airmen stationed at bases with MTFs belonging to other Services, efforts are underway to ensure transfer of PHA questionnaires between the Services. Until this process is complete, the Air Force will utilize existing Base Operational Medical Clinic protocols to accomplish these PHAs.
Airmen who underwent a PHA in 2017 prior to July 31, 2017 do not have an additional requirement to retake it this year. Their 2018 PHA will include the MHA interview with a medical provider. 
Airmen can monitor their individual medical readiness using their MyIMR page at https://imr.afms.mil/imr/MyIMR.aspx. This page also contains location specific information, instruction, office hours and phone numbers to help Airmen meet their IMR requirements.