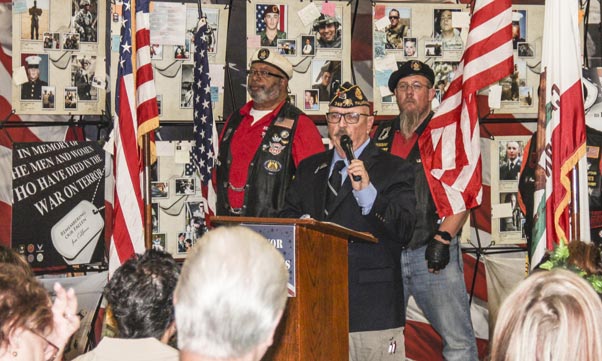 Traveling throughout the state, "Remembering Our Fallen from California" is a photographic war tribute that honors California soldiers killed in the War on Terror, 9/11/2001 to present.
The exhibit is on display in the Antelope Valley Rural Museum at the Antelope Valley Fairgrounds through Oct. 29. The exhibit is sponsored by the Antelope Valley Blue Star Mothers and AV Vets 4 Veterans.
"Included in each name on this memorial is a story of love and loss, of joy and sadness of dreams unfulfilled and of lives ending far too soon," shared Dayle DeBry, AV Rural Museum director of military and aviation. "The names and photos are of our young men and women, family members and dear friends who are greatly mourned and deeply missed." The AV Rural Museum preserves many artifacts of historical significance to the Antelope Valley, including tributes to local heroes and the sacrifices they have made. "We are dedicated to tell the stories of those who have served and given their lives, and to those who continue to keep our valley and our country safe from harm." The showcase area at the front of the museum displays uniforms and personal effects belonging to local heroes, from the Civil War to present day.
Ron Zell, Air Force veteran, and California representative of the memorial, encouraged parents to bring their children. "The worst thing we can do is to forget those who have fallen." He traveled 400 miles to the Antelope Valley to set up the display.
"We all have someone who we are touched by, by an event such as this," said Army veteran Dennis Anderson, who emceed the opening ceremony on Oct. 22. He spoke of Capt. Victoria Pinckney-Castro who walked with Anderson's son on the first day of kindergarten. In 2003, they walked the Palmdale High School graduation line together. Pinckney-Castro was killed in the crash of a KC-135 near Chon-Aryk, Kyrgyzstan, when the KC-135 she was piloting crashed while supporting operations in Afghanistan. "Trauma and loss are the injuries that do not heal. You actually have to learn how to live with them, they do not go away," said Anderson. "You've got to live, that's how it is done."
Although it honors those killed, the memorial was created for the living — to help the families in their grief, while reminding the rest of the nation of the ultimate price paid for America's freedom. Sadly, more than750 soldiers' portraits are on display.
Guest speaker, Army veteran and Congressman Steve Knight, said it gave him goosebumps the first time he saw the memorial three years ago in Santa Clarita, where he walked through it with Gold Star father and close friend, Assemblyman Dante Acosta. "I'm not the kind of person that is good to walk with people going through difficult times." He didn't know what to do or say — he couldn't imagine what his friend or any Gold Star family has been through. "I will never forget that day." Knight also presented Sylvia Gaxiola of AV Blue Star Mothers with an award for her work with the organization.
The memorial was escorted to the museum by Patriot Guard Riders and the American Legion. Exhibit hours are 5-8 p.m., Monday-Friday, and 11 a.m.-5 p.m., Saturday and Sunday. Monday the 29th is reserved for school children.