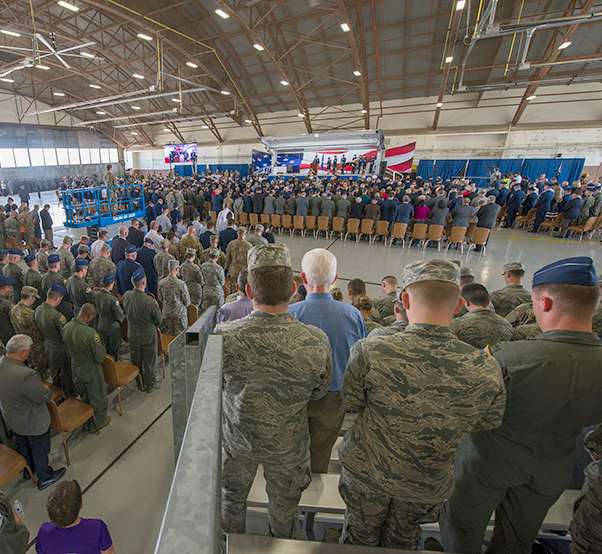 The tradition of honor and legacy of valor that defined the life of retired Lt. Col. Richard "Dick" E. Cole were celebrated during a memorial service at Joint Base San Antonio-Randolph, April 18.
On the day marking the 77th anniversary of the storied World War II Doolittle Tokyo raid and in a hangar surrounded by vintage aircraft linked to the Doolittle Raider's career, Cole's family and friends, Air Force senior leaders, and Airmen of all ranks gathered to recognize the accomplishments of the humble warrior from Ohio who answered his nation's call in America's darkest days.
After a stirring rendition of the national anthem by Cole's grandson Aaron, Rich Cole, Lt. Col. Cole's son and a retired U.S. Air Force lieutenant colonel like his father, spoke passionately about his father and his willingness to be a wingman and leader, defending his country with his life.
"All the (Doolittle Raiders) thought they were doing their job and they didn't expect the adoration they got when they returned home," Rich Cole said. "One of the greatest lessons my dad imparted on us was that being willing to do something impossible and die for your country was an honorable thing."
Secretary of the Air Force Heather Wilson talked to those gathered about the strategic importance of the Doolittle Raiders and their risky mission to fly, fight and win in retaliation against Japan for their surprise attack on Pearl Harbor just months earlier.
"(The Raiders) planned the unthinkable," Wilson said. "To strike Tokyo from an aircraft carrier…with a land-based bomber. If the 16-ship package had been discovered by Japanese subs, it could have ended what was left of the U.S. fleet in the Pacific."
Wilson recounted how Cole once described heroes as those "who took risks that brought about important consequences," but never counted himself among them.
"When America was at its lowest point, it needed a hero," Wilson said. "(America) found 80 of them who put the country on their back and flew straight into the heart of the enemy. For this, we will never forget."
Air Force Chief of Staff Gen. David Goldfein told the audience several stories centered on Cole and how unassuming he was about his career, which included becoming one of the first air commandos in the U.S. special operations community, viewing his own place in history simply as someone doing their job as part of the big picture.
"(Cole) and the Doolittle Raiders made the impossible, possible since 1942 as pioneers of global strike," Goldfein said. "On that fateful day, Col. Cole and his fellow wingmen cemented the very notion of joint airpower with the clear statement that America's Air Force can hold any target at risk anywhere, anytime."
Acknowledging the Cole family's loss, the chief of staff spoke to Cole's significant contributions to our nation's defense and lifetime place in the Air Force family as "one of the rare giants of the Greatest Generation."
"(Cole's) legacy will endure because as long as there is a United States Air Force, Airmen will toast him and his fellow Doolittle Raiders," Goldfein said. "We are better prepared today to defend our great nation because of him … and because of you."
Staff Sgt. Michelle Doolittle from the Band of the Golden West based at Travis Air Force Base, Calif., then sang "America the Beautiful" with backup from the Band of the West's Freedom Brass quintet from JBSA-Lackland.
The performance held special meaning to the family with Staff Sgt. Doolittle being a descendant of Gen. Jimmy Doolittle, who led the raid on Tokyo and flew with Cole in Aircraft No. 1 in the B-25 Mitchell formation off the deck off the U.S.S. Hornet.
The city of San Antonio, represented by Mayor Ron Nirenberg, then presented the Cole family with a resolution of respect for Cole's military service and record of personal sacrifice in helping others, as well as acknowledging Cole's deep ties to the San Antonio area and expressing their condolences over his passing.
Even after retirement from the service in 1966, Cole never left his fellow Airmen behind, representing the Air Force and the Doolittle Raiders at events around the country, promoting the spirit of service and heritage among new generations of Airmen.
"The Doolittle Foundation Scholarship foundation was extremely important to my dad," Rich Cole said. "He spent the last 50 years of his life raising awareness and donations for the scholarship; it really was his way of not only giving back to Gen. (Jimmy) Doolittle's memory, but to the Air Force."
After a final salute to the Doolittle Raider from his son, and with "Amazing Grace" wafting over the hangar from a ceremonial bagpipe, guests were ushered outside for flybys from aircraft with historical significance and ties to Cole, including an RC-135 reconnaissance aircraft from his days with the 95th Bombardment Squadron; a B-52 Stratofortress bomber; a historic B-25 Mitchell bomber; and finally a "Missing Man" formation flown by T-38C Talons from the 12th Flying Training Wing.