PALM SPRINGS–A richly-endowed air museum is a time machine of sorts, in that it combines an expansive view of recent history, with aviation technology offered as the lens to recount that history.
The Antelope Valley has a couple of rare entries in that category.
There is Blackbird Airpark, and the adjoining Joe Davies Airpark, both on Avenue P, just south of the fence line that secures Air Force Plant 42. Also, there is the Flight Test Museum just inside Edwards Air Force Base.
Blackbird Air Park has the unique character of the set of namesake aircraft that rest out on its pad. The variants of Kelly Johnson's own Stradivarius-like creation include an SR-71, generally known as the "Blackbird," the sleek-dagger edged Mach 3-plus reconnaissance plane, and its precursor, the A-12, which was originally built for the CIA. Its top speeds and altitude never published in open sources, more rara avis, rare birds, simply do not exist. And yet, there they are, out in plain sight.
Some of the planes at the adjoining Joe Davies Air Park ranked much more numerous on the production lines, and at some point, they all tested in from flight paths above Plant 42, and Edwards Air Force Base. Nearly, but not all, the offerings in the Antelope Valley, reflect the glory years of the early Jet Age.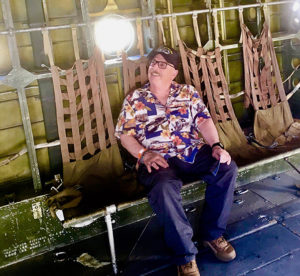 About 110 miles east of the Antelope Valley, the Palm Springs Air Museum duplicates some of the aircraft on the preservation ground outside Plant 42, and at Edwards. But the visitor there is offered a view from inside and outside more spacious hangars, and a more spacious history of military aviation.
For veterans, there is a little bit of something from all the service branches. Army, Navy, Marine Corps, Air Force, and Coast Guard — every branch has something that flies, and the Navy and Marines have ships in fleets designed only to launch aircraft to attack, or defend. The Palm Springs Air Museum has four galleries housed in two enormous hangars. One gallery focuses on the Korean and Vietnam wars, plus the Cold War. Another examines World War II in the Pacific. The other two treat on World War II in Europe, and house a static display of some of the most significant aircraft of history's most enormous conflict.
I stepped through the entryway, and was greeted by a docent who, on seeing my paratrooper ball cap, asked where and when I had served.Then, cheerfully, he offered, "I was '68 and '69. Jump school at Benning, and OCS (Officer Candidate School), and 18th Airborne Corps."
Neither of us served in country during the Vietnam War. I served a few years later, and was sent to Germany. My friend, the docent, was shipped to Jordan for a bit.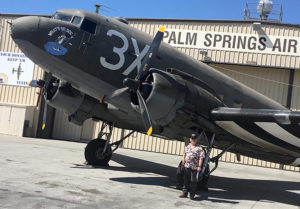 Our chance meeting as brother paratroopers shifted the conversation to a couple of aircraft outside the museum on the tarmac. One of them was a still-flying C-47 Dakota "Skytrain," the Douglas transport that dropped 15,000 paratroopers into Normandy on D-Day. I jumped from one of those a lifetime ago — actually, its commercial sister, the DC-3 Douglas Commercial. There was also a completely rehabilitated C-119 fuselage — the "Flying Boxcar," another aircraft that dropped paratroopers, including Antelope Valley veteran Vito Canzaneri. Jumping with the 187th Regimental Combat Team, Vito jumped into, yes, Pyongyang, North Korea, in 1950. And he rode into the fight in a Boxcar.
In the Pacific War gallery, there is a small stage dedicated to Bob Hope and the USO. Hope's history looms almost as large in Palm Springs as in the USO, where his legacy spans World War II, the Korean and Vietnam Wars. Hope took his USO troupe out to the first Gulf War before he hung up his golf clubs.
Another Palm Springs visitor is made much of in the Pacific War gallery. One of the carrier-based World War II aircraft is a Grumman Avenger torpedo bomber of the kind piloted by the youngest naval aviator commissioned at the time, the future President George H.W. Bush. On Sept. 2, 1944, the elder Bush was shot down off the island of Chi Chi Jima, and bailed out over the water. His two crewmates died, one who never ejected, and the other, whose parachute failed.
"I was scared and sick," Bush said, recounting how he used his arms to paddle his life raft before he was rescued by the U.S. submarine, Finback. And that's how we got our 41st president — or, at least, a big part of it.
Other touch points with the Antelope Valley treated on in the Palm Springs Air Museum recount how Mojave aviation legend Dick Rutan insisted to an Air Force general in Vietnam that the search for a downed pilot not be abandoned. Also, how three of our local women aviation pioneers — Ty "Marguerite" Killen, Irma "Babe" Story, and Flora Belle Reece, all served with the Womens Airforce Service Pilots during World War II.
One of the museum's jewels is a pristine, and elegantly restored Boeing B-17 "Flying Fortress," the queen of heavy bombers, this one nicknamed "Miss Angela," with the requisite bathing beauty "nose art."
The B-17 was immortalized in "Memphis Belle" and "Twelve O'clock High," both films the work of master director William Wyler, who flew with the crew of "Memphis Belle" as its crew fought to stay alive until a 25th mission that would send them home.
"Air crew during World War II had a killed and wounded rate as high as the Marines in the Pacific," air museum docent Lauren Decker noted.
One of our Antelope Valley "Boulevard Boy" heroes of World War II was awarded the Silver Star, our nation's 3rd-highest award for valor, flying in a B-17 crew out of Foggia, Italy. Charles "Charlie" P. Rader, an Antelope Valley High School graduate, succeeded in heroic efforts to rescue crew mates of his heavily battle-damaged aircraft. He also assisted the pilot in landing the stricken aircraft behind friendly partisan lines in Yugoslavia.
Rader was top-turret gunner, with a pair of twin .50-caliber machine guns. An attacking Nazi fighter plane, a Messerschmitt, blew the turret to pieces, the shattered plexiglass wounding Rader, who continued to return fire. After driving the Nazi fighter off, Rader dropped down into the fuselage, and assisted crew and pilot through to the crash-landing in Yugoslavia. In addition to the Silver Star, he was awarded the Purple Heart.
If you know where to look, there is a lot of Antelope Valley military aviation history at the Palm Springs Air Museum.
Editor's note: Dennis Anderson is an Army veteran paratrooper who served during the Cold War. As Editor of the Antelope Valley Press, he deployed to the Iraq War as an embedded reporter with the first National Guard unit from California, based in Lancaster.