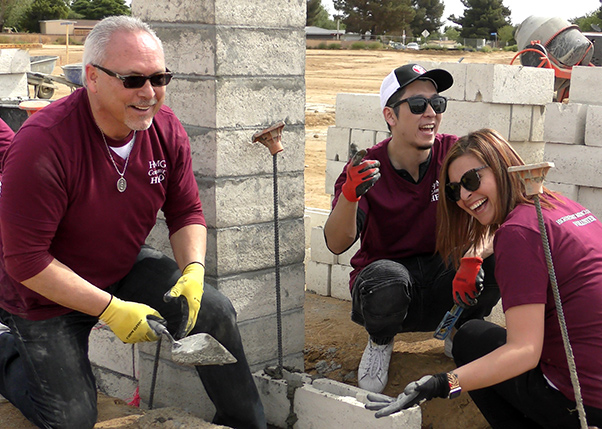 PALMDALE–High Desert Medical Group, the Antelope Valley's largest group of independent medical providers, is joining a major home-building project to build homes for veterans of armed services in need of affordable housing.
High Desert Medical Group sent dozens of volunteers recently to a weekend "We Build" project to assist the Homes4Families non-profit that is building a "veteran enriched neighborhood" housing development in Palmdale.
"I am overwhelmed by the number of people who participated," said Donna Deutchman, CEO of Homes4Families. "The High Desert Medical Group showed their love for our veterans by working all day to build the new Veteran Enriched Neighborhood. Everyone joined in to set blocks and move virtual mountains for our military families". 
Volunteers included executives, physicians, nursing and administrative staff from the medical group, HDMG Administrator Rafael Gonzalez noted.
"What High Desert Medical Group does is work to make a positive difference," said Gonzalez, who spent the day working with the HDMG team. "Working with veterans is one of our priorities in service to our communities.
He added, "The HDMG team build with Homes4Families was both fun, and a way to gain newfound respect for people who build. We really had a great time."
Homes4Families is building a 56-home development in Palmdale, with about 15 homes being built a year over the next four years. The homes will go to qualified military veterans with prices set to be affordable, and loans secured by the California Department of Veterans.
In addition to its contribution of volunteer employees, HDMG is also pledging to contribute $50,000 total to specific "wrap-around" services that enrich the quality of life for veterans and their families who will reside in the neighborhood.
Specifically, HDMG, as a community wellbeing initiative will contribute to establishment of the My TIME Center that is an organic part of the "veteran enriched neighborhoods" already built by Homes4Familiesin Santa Clarita, and the Sylmar district of Los Angeles. My TIME stands for Trauma-Informed Military Enrichment.
It offers a center where families can gather, and where veterans can improve their emotional wellbeing in a combination of group and individual counseling settings. Also, volunteer mentors are available, as is financial literacy training. The concept is to provide more than the basics of housing in helping veterans achieve healthy readjustment and transitions to civilian society.
"Your contribution will help to provide My TIME® programming for the 56 families that will become new homeowners in this community," Deutchman said.
In making its commitment to the Palmdale Veteran Enriched Neighborhood, HDMG achieves Founding Key Leader participation, joining with other major donors that include with Los Angeles County Supervisor Kathryn Barger, Lou Gonzales of Lancaster Chevrolet, Northrop Grumman, and more.
Homes 4 Families will dedicate all funds awarded towards wraparound enrichment services for low-income veterans and military family members in our Palmdale Veteran Enriched Neighborhood program.
Homes 4 Families was founded in Los Angeles in 2008 and exists to meet the significant need for affordable housing and effective, no-cost services that equip veteran families to move up the economic ladder. With the support of CalVet and generous corporate sponsors and individual donors, the nonprofit has helped more than 374 low-income families achieve safe, affordable home ownership. This includes 138 low-income veterans and military families.
Editor's note: Dennis Anderson is a Licensed Clinical Social Worker at High Desert Medical Group where he works on veterans and community mental health issues.