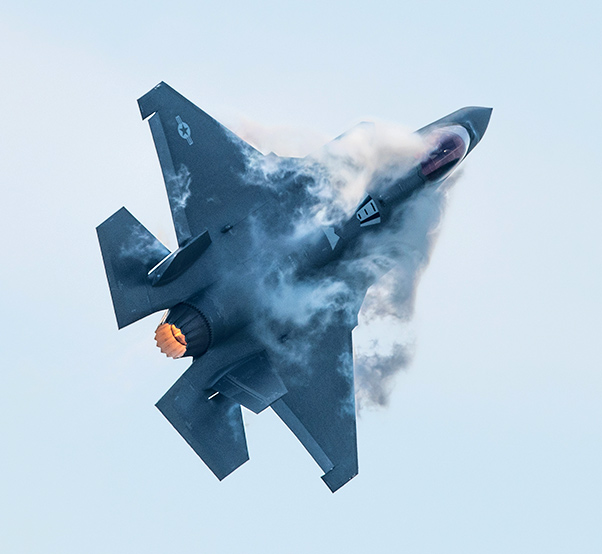 Officials for Los Angeles County Air Show "Aerospace Valley USA®", presented by Lockheed Martin, are pleased to announce that the March 21st – 22nd, 2020 event will feature one of the most robust performer line-ups in the air show industry. Event organizers officially announced additions to the line-up including the US Navy F-35C Airshow Team from Naval Air Station Lemoore, CA, the U.S. Army Golden Knights Parachute Team, and aerobatic performer Chuck Coleman.
NAS Lemoore was the first West Coast naval installation to host the F-35C. Lemoore's F-35Cs are assigned to the Rough Raiders Squadron (VFA) 125. The F-35C carrier variant (CV) is the world's only 5th Generation, long-range stealth strike fighter designed and built explicitly for naval carrier operations. The F-35C combines this unique capability of operating from a carrier deck with the unmatched 5th Generation capabilities of stealth, fused sensors, and reliability; making the F-35C the Navy's future first-day-of-the-war strike fighter.
The first-time appearance at the LA County Air Show of the United States Army Golden Knights Parachute Team is going to be very exciting. The team is made up of demonstration and competition parachutists drawn from all parts of the U.S. Army.
Chuck Coleman is an iconic local air show pilot, who has performed in hundreds of air shows throughout the country and beyond. For over ten months, Coleman has been involved in the making of the upcoming movie Top Gun: Maverick. One of his roles, was being the aerobatic flight instructor for the "Tom Cruise School of Flying" in his Extra 300L. Chuck performed over 140 flights with the actors.
Returning to the 2020 Air Show will be the popular Heroes and Legends history panel discussions. Preliminary panel topics include Women in Aviation, Celebration of the U-2 "Dragon Lady", and War Eagle panel. Panelist will feature both veteran pilots and today's inspirational leaders from the aviation industry.
As in the past, attendees will enjoy several impressive "on the ground" static displays.
New this year will be a display sharing the fascinating history of the Royal Air Force connection to the Antelope Valley "War Eagle Field". This was a 640-acre flying school facility located in Lancaster, California which was opened in 1941 to provide flight training to British and Canadian cadets. The schools were operated by Major C.C. Mosely, president of Polaris Flight Academy. The Royal Air Force cadets were taught primary, basic and advanced flying. The schools also taught students from the Eagle Squadron, aviators from the United Kingdom, Canada, and other allied countries advanced combat flying skills. This unique history display is presented in partnership with the Antelope Valley Rural Museum, which will display photos and other historic memorabilia from the pilots who trained at War Eagle Field.
The Air Show will once again feature an interactive STEM Expo sponsored by Northrup Grumman, pilots and crew member meet and greets, exhibits, food, and more.
According to Los Angeles County Air Show Board President, Mike VanKirk, "This year's goal is to knock the socks of aviation enthusiast, and that's not an easy task here in Aerospace Valley. For those of us who live here, we're blessed to see some of the world's top aircraft fly on a regular basis, but I'm thrilled to say the 2020 Show is shaping up to be one of the most exciting air shows in the country. The combination of the U.S. Navy Blue Angles, USAF F22 Raptor Demo Team, US Navy F-35C Airshow Team, the US Army Golden Knights Parachute Team, coupled with a great line-up of skilled aerobatic pilots, is sure to inspire every fan at Fox Field come March 21st and 22nd."
VanKirk went on to say, "For the first time in the Air Show's history, we're offering public premium seating, so folks will be able to get a fence line view, seating and other amenities. It's not just "In the Sky" show, but our "On the Ground" static displays, Heroes and Legends History panel, interactive STEM, and great food that make a perfect recipe for an amazing event. Our robust line-up including the 2020 is an exciting year for all aerospace enthusiasts."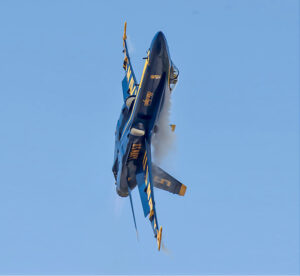 Other exciting acts scheduled to perform include:
F-22 Raptor Demo Team
The U.S. Air Force F-22 Raptor Demonstration Team is based in Virginia and performs aerial maneuvers to demonstrate the unique capabilities of this fifth-generation fighter.

Tora, Tora, Tora
TORA TORA TORA is the Commemorative Air Force's recreation of the Japanese attack on Pearl Harbor that signaled the beginning of the American involvement in World War II. Designed as a living history lesson, "Tora Tora Tora" is intended as a memorial to all the soldiers on both sides who gave their lives for their countries.

Tora Tora Tora aircraft include a Mitsubishi A6M "Zero," a Nakajima B5N "Kate," a Aichi D3A "Val," and a Curtis P-36 "Hawk." Some demonstrations also include a Curtis P-40 "Warhawk" and a Boeing B-17 Flying Fortress.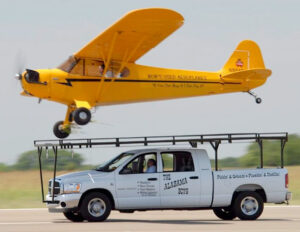 Greg Koontz and the Alabama Boys
Flown in the 1946 Piper J-3 Cub, this act begins as Greg Koontz — farmer Clem Cleaver — climbs up on the announcer's stand, demanding a flight lesson. Later in the show, he "steals" the plane and takes off alone, with his whole crew chasing. Grandpa shoots off a tire to get him down, and Clem lands on his pickup truck driven by Grandpa Fred as it races down the runway.

Rob Harrison, "Tumbling Bear"
Rob Harrison "The Tumbling Bear' will perform in his red, white and blue Zlin 142C, a Czech Republic military trainer. Harrison started flying with his Dad, a career Naval officer, at the age of six. By the age 13, he was doing aerobatics. Now at 78, he's been a marquee air show attraction for nearly 30 years. Harrison is based at Cable Airport in Upland, Calif., and San Bernardino International Airport.
For more information on the Los Angeles County Air Show, "Aerospace Valley USA®", performers, sponsorships, exhibitors, STEM Expo, and presale tickets, please go to www.lacountyairshow.com. Follow the LACounty Air Show on Facebook, Twitter @LACountyAirShow and Instagram and SnapChat for updates and announcements.