By Stuart Ibberson, editor
Chuck Yeager, the first human to break the sound barrier, passed away Dec. 7, 2020, aged 97.
His death was announced, via Twitter, by his wife Victoria Yeager:

NASA Administrator Jim Bridensteine said Yeager's death is "a tremendous loss to our nation," in a statement.
"Gen. Yeager's pioneering and innovative spirit advanced America's abilities in the sky and set our nation's dreams soaring into the jet age and the space age. He said, "You don't concentrate on risks. You concentrate on results. No risk is too great to prevent the necessary job from getting done,'" Bridenstine said.
While Yeager is best known in the Antelope Valley for breaking the sound barrier on Oct. 14, 1947, flying the Bell X-1, he began his military career in World War II as a private in the U.S. Army Air Forces in 1941. After serving as an aircraft mechanic, in September 1942 he entered enlisted pilot training and upon graduation was promoted to the rank of flight officer (the World War II U.S. Army Air Force equivalent to warrant officer), later achieving most of his aerial victories as a P-51 fighter pilot on the Western Front, where he shot down 13 German planes on 64 missions during World War II, including five on a single mission. He was once shot down over German-held France but escaped with the help of French partisans.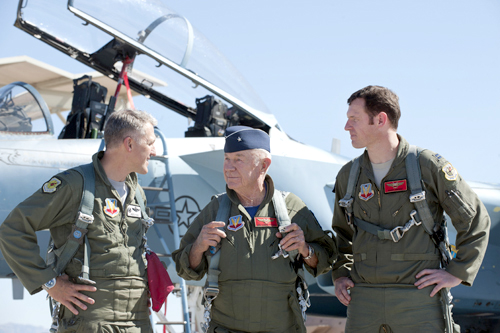 After the war, Yeager became a test pilot of many types of aircraft at Edwards Air Force Base, Calif., including experimental rocket-powered aircraft. As the first human to officially break the sound barrier, he flew the experimental Bell X-1 at Mach 1 and an altitude of 45,000 feet, for which he won both the Collier and Mackay trophies in 1948.
Talking about his record-breaking, sound-barrier breaking flight, Yeager said in 1968, "Sure, I was apprehensive. When you're fooling around with something you don't know much about, there has to be apprehension. But you don't let that affect your job."
For about a year, the world thought the British had broken the sound barrier first as Yeager's flight was kept secret. "It wasn't a matter of not having airplanes that would fly at speeds like this. It was a matter of keeping them from falling apart," Yeager said.
"It wasn't a matter of not having airplanes that would fly at speeds like this. It was a matter of keeping them from falling apart," Yeager said.
Among the flights he made after breaking the sound barrier was one on Dec. 12. 1953, when he flew an X-1A to a record of more than 1,600 mph. He said he had gotten up at dawn that day and went hunting, bagging a goose before his flight. That night, he said, his family ate the goose for dinner.
"I've flown 341 types of military planes in every country in the world and logged about 18,000 hours," he said in an interview in the January 2009 issue of Men's Journal. "It might sound funny, but I've never owned an airplane in my life. If you're willing to bleed, Uncle Sam will give you all the planes you want."
Yeager later commanded fighter squadrons and wings in Germany, as well as in Southeast Asia during the Vietnam War. In recognition of the outstanding performance ratings of those units, he was promoted to brigadier general in 1969.
In 1962, as a colonel, and after a year of study at the Air War College, Yeager became the first commandant of the U.S. Air Force Test Pilot School at Edwards. It was during this time that the Air Force gradually developed an aerospace doctrine, and a small cadre began to establish the criteria for additional course work aimed at qualifying TPS graduates for the tasks of an astronaut. On Oct. 12, 1961, the Test Pilot School was redesignated the U.S. Air Force Aerospace Research Pilot School, with the curriculum expanded to a full year, divided into Phase I (Experimental Test Pilot Course) and Phase II (Aerospace Research Pilot Course).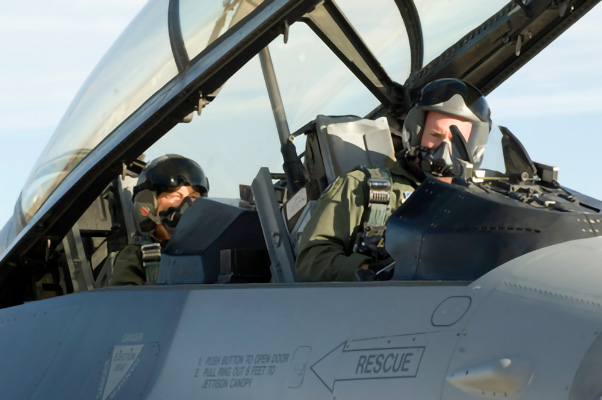 Between 1962 and 1975, the test pilot school expanded its role to include astronaut training for armed forces test pilots. Thirty-seven TPS graduates were selected for the U.S. space program, and 26 earned astronaut's wings by flying in the X-15, Gemini, Apollo, and Space Shuttle programs.
As Yeager himself had only a high school education, he was not eligible to become an astronaut like those he trained.
Yeager retired from the Air Force on March 1, 1975, at Norton Air Force Base, Calif., after serving more than 33 years on active duty. He did, however, continue to fly for the Air Force and NASA as a consulting test pilot at Edwards.
In 1983, actor Sam Shepard portrayed Yeager in the 1983 movie "The Right Stuff," which followed the early days of the U.S. space program and the seven Mercury astronauts. The movie is based on the Tom Wolfe book of the same name.
For many years, Yeager would recreate his breaking of the sound barrier flight to kick off the Edwards Open House and Air Show.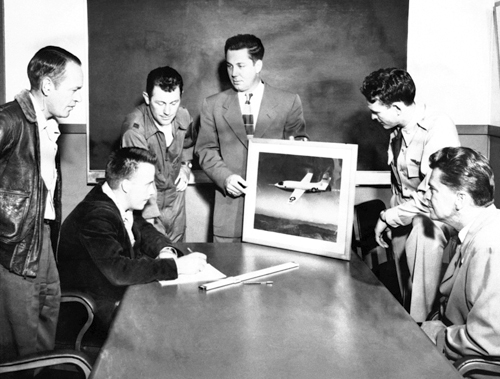 Yeager was awarded the Silver Star, the Distinguished Flying Cross, the Bronze Star, the Air Medal and the Purple Heart. President Harry S. Truman awarded him the Collier air trophy in December 1948 for his breaking the sound barrier. He also received the Presidential Medal of Freedom in 1985.
"What really strikes me looking over all those years is how lucky I was, how lucky, for example, to have been born in 1923 and not 1963 so that I came of age just as aviation itself was entering the modern era," Yeager said in a December 1985 speech at the Smithsonian Air and Space Museum.
"I was just a lucky kid who caught the right ride," he said.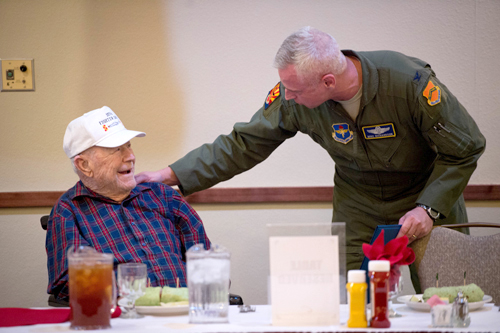 Updated at 11:30 am