The U.S. Air Force is always developing ways to act faster and more effectively around the world.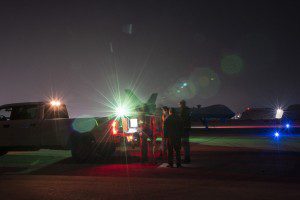 A Forward Arming and Refueling Point, or FARP, accomplishes this by allowing aircraft to prepare for their next mission without having to return to an established base. This capability is part of Agile Combat Employment, the doctrine that emphasizes mobility even in hostile areas where infrastructure is scarce.
The 26th Expeditionary Rescue Squadron set up a FARP to refuel and relaunch a combat MQ-9 Reaper flown by the 65th Special Operations Squadron, 1st Special Operations Wing, Hurlburt Field, Fla., on Dec. 10, 2022. The operation is the first of its kind to take place in a combat Area of Responsibility.
FARP specialists landed in an HC-130J Combat King II at an undisclosed location in Southwest Asia, and connected fuel lines to an MQ-9. 361st Expeditionary Attack Squadron Lockheed Martin Maintenance were able to refuel and prepare the aircraft for the 65th SOS to continue flying combat operations.
Until recently, this operation would have been impossible. SATCOM Launch and Recovery allows the Mission Control Element to conduct ground operations, taxi, takeoff and land via satellite communications. This capability significantly reduces logistics and airlift requirements when the asset forward deploys and changes the way that Remotely Piloted Aircraft warfare is conducted.