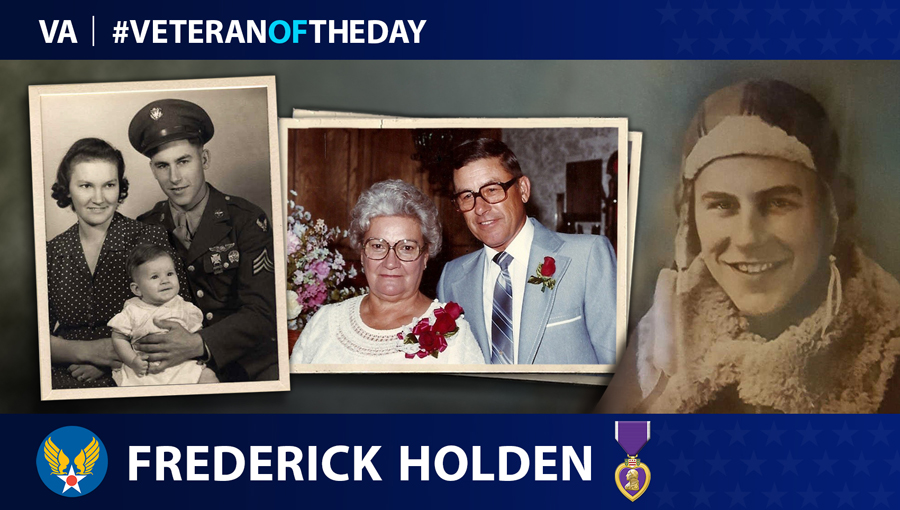 Frederick "Fred" G. Holden was born in January 1923 in Bluejacket, Okla., to a Cherokee mother and a World War I Veteran and farmer father.
Just after his 20th birthday in January 1943, Holden enlisted in the Army Air Force, where he went on to serve in the 15th Air Force, 459th Heavy Bomb Group, 758th Bomb Squadron, based in Foggia, Italy, as a B-24 engineer and gunner.
While headed on a mission to the Balkans and serving as a flight engineer and top turret gunner on a B-24J Liberator named the "Countess Inn," Holden's aircraft flew over the Adriatic Sea, just off the coast of Italy, before being hit by friendly fire when fellow American aircraft cleared its gun on the way back from a bombing. It was common for all gunners to test their guns before entering the combat area. One of the other bombers accidentally hit two of the engines on Holden's aircraft, deflecting one of the propeller blades into the fuselage. As a result, the crew had no choice but to ditch the "Countess Inn" in the Adriatic Sea and try to make their way back to base.
Holden was the only crew member injured in the water landing. A stray 50 caliber bullet ricocheted off one of the propellers and grazed his head. Clinging to a main landing gear tire floating in the sea, the crew were all rescued by a Navy Catalina plane that landed on the water. Holden's crew had wrapped bandages around his head and, when the Catalina crew saw the bandages, they immediately landed on the sea and picked up the entire crew. They thought he had sustained a life-threatening injury. The scar remains today, proving his story. It was noted that his coveralls from the incident "looked as if they were laid on a rock and hit several times with a hammer." The "Countess Inn" currently rests at the bottom of the Adriatic Sea.
Following his assignment in Savannah, Ga., Holden was discharged honorably from the service in October 1945, while he was stationed in St. Petersburg, Fla. For his military service during World War II, he received a Purple Heart and three Air Medals. During another mission, he also earned partial credit for shooting down an ME-110, which was a German twin-engine fighter.
After being discharged, Holden returned to his home in Broken Arrow, Okla., got married and raised four children. The story of his service inspired his grandson, Tim, to become a pilot; he is now a pilot for American Airlines.
We honor his service.