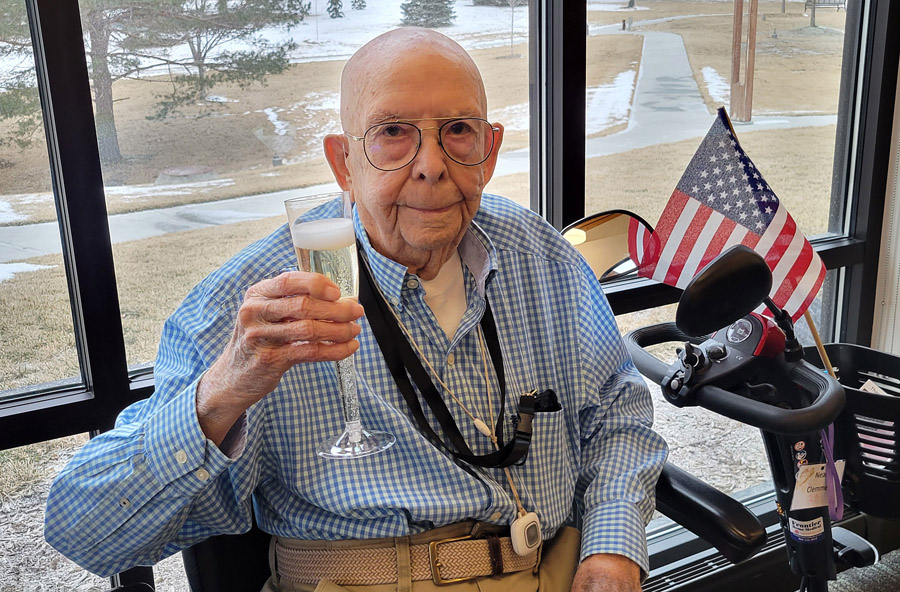 Nebraska National Guard Airmen gathered with retired Air Force Lt. Col. Julius "Neal" Clemmer and his family Jan. 28, 2023, in Lincoln, Neb., to celebrate the World War II veteran's 100th birthday.
Clemmer grew up in Nebraska and has a special connection to Offutt – he enlisted in the Army in 1942 as a private in the aviation cadet program at Offutt Field and retired from the Air Force in 1969 as a lieutenant colonel at the same installation, now known as Offutt Air Force Base.
The Airmen enjoyed talking with Clemmer about some of his service stories, including flying the P-51 Mustang in combat and working with missiles and weather satellites.
"Any chance you have to speak to a World War II veteran, take it. Just the history sitting here in front of us is amazing," said Col. Wendy Squarcia, 170th Group commander. "It's important to come and show him how thankful we are for his service."
Maj. Gen. Daryl Bohac, Nebraska National Guard adjutant general, presented Clemmer with his coin and promoted him to an admiral in the Great Navy of the State of Nebraska on behalf of Nebraska Gov. Jim Pillen.
"It's not too often you get to meet a 100-year-old veteran. I asked him what the secret is to getting to 100 years old, and he said 'alcohol, tobacco and junk food,'" said Bohac. "Seventy-three combat missions, 10 air medals, four battle stars – it's really an amazing legacy … a legacy of survival and also a legacy of courage."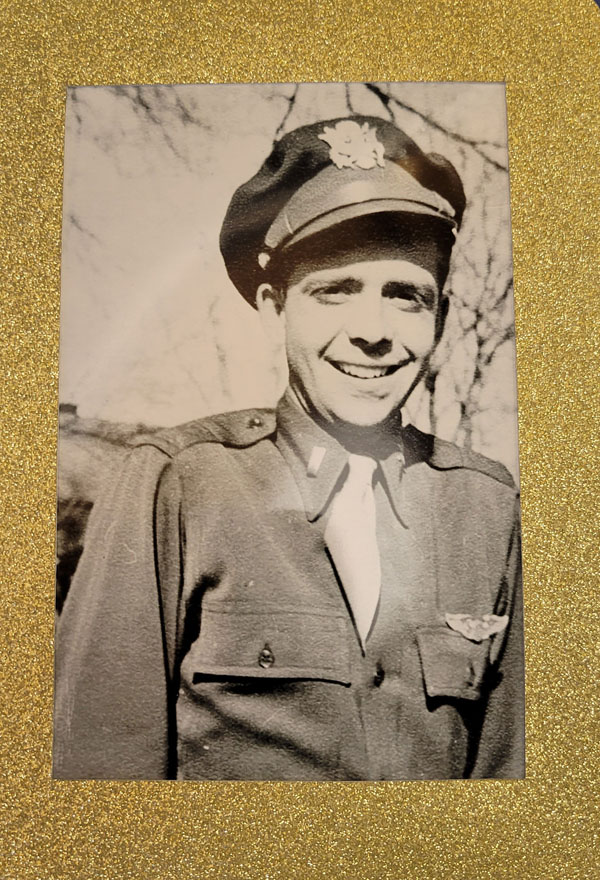 Clemmer appreciated the surprise presentations from the military and other organizations that came to celebrate his life and service.
"This is a heck of a party. I never thought I'd be an admiral," said Clemmer.
Many of his family members, which include four daughters, eight grandchildren and 20 great-grandchildren with one on the way, traveled from around the United States to help him celebrate this momentous occasion. His wife, Mary Jane Clemmer, traveled with him throughout his military career and after, wrote articles about her experiences, and even served as an editor at a local paper, The Bellevue Leader. She passed away in September 2022, three months before their 75th wedding anniversary.
"It's very special for our family to celebrate our grandpa and all that he's done not only in his life, but in our lives as well. To celebrate what he's meant to us and the community," said Jillian Boldt, Clemmer's youngest granddaughter.
Boldt grew up listening to her grandfather's military stories, so she reached out to local military units about attending the party and was grateful for the responses she received.
"The thought and effort behind the military personnel that came today was really special, and I know everyone in the family really appreciates it," Boldt said. "It means a lot to us because his military career is such a big part of his legacy that being able to have some of the younger generations come and meet him and see that made him really happy."
Clemmer went on active duty in 1943 and commissioned as a second lieutenant in January 1944, becoming a single-engine fighter pilot. He attended fighter and tactical reconnaissance schools, then went to Europe with the 109th Tactical Reconnaissance Squadron. He flew 73 combat missions during World War II, amassing 160 hours of combat time in enemy air space.
After the war, he took a break from the military and attended Iowa State University, earning his bachelor's degree in agronomy in 1949. He returned to active duty in the newly formed Air Force in 1952, spent three years in Germany and 18 months in North Carolina, then headed to Lowry AFB, Colo., in 1957 for missile training.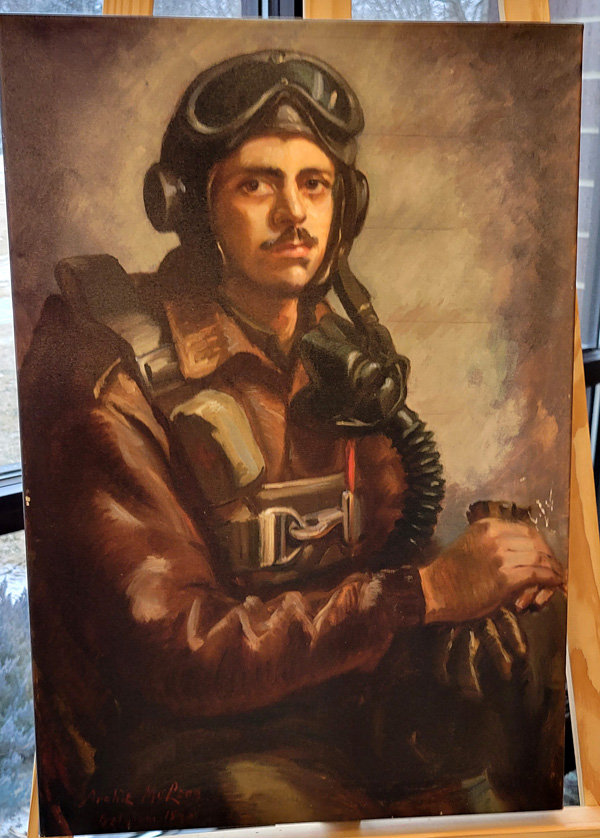 In 1958, the Air Force sent Clemmer to Vandenberg AFB, Calif., to work on missiles for Strategic Air Command. During this tour, he helped train members of the Royal Air Force in missile technology and served as the launch control officer heading up the team that put the first weather satellite in orbit.
He returned to Offutt in 1965, working on satellites with SAC's 4000th Support Group, and retired in October 1969. One of his favorite memories of Offutt is from before his time in the military, when a family friend stationed at the base invited his family to an Army pass and review.
"The first group in the parade was the band. They stopped and formed across from the stadium," said Clemmer. "Then the troops marched past, followed by mule-drawn supply wagons. Just as the mules got there, the band struck up and those mules took off running. The mule skinner managed to get them across the parade ground into a big pile of mud, which effectively stopped them."
Through military and personal travel, Clemmer has visited 53 countries and crossed the Atlantic Ocean 18 times, five of them by ship. He returned to Europe for a D-Day tour of Normandy, France, and Bastogne, Belgium. It was an emotional journey since he flew combat missions in December 1944 and January 1945 during the siege of Bastogne, which was part of the larger Battle of the Bulge.
"At Normandy, what choked me up was the grave markers. The crosses on the graves have the names of the soldiers that died facing home to the west," said Clemmer.
Despite already accomplishing so much in his life, Clemmer isn't slowing down. He's taken up knitting and makes hats for special education students and others in need. He became a published author after releasing his first book in 2004, and bought a new computer for his birthday to update it and turn it into his memoirs. He's planning to publish the new book this spring.
"It's been quite a ride. I did what many people in my generation would like to have done. Everybody wanted to fly a fighter plane back then," Clemmer said. "I've lived a charmed life."