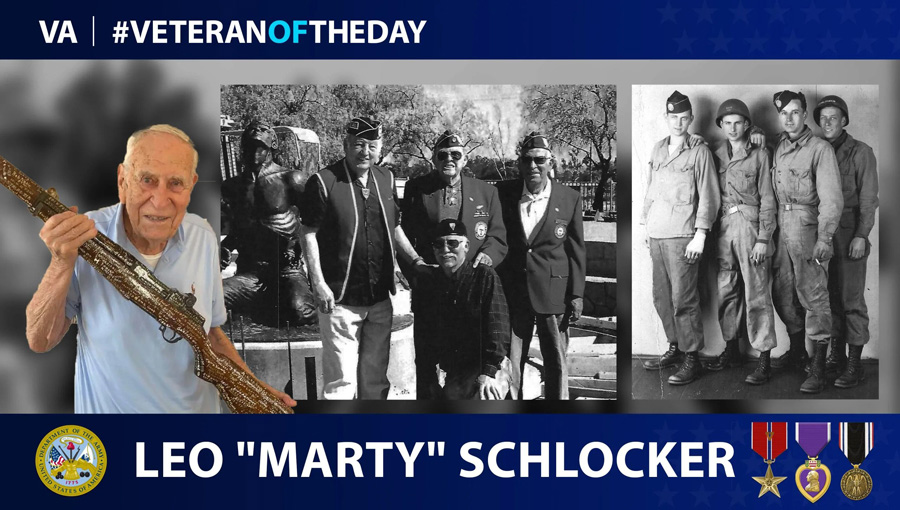 Leo Martin "Marty" Schlocker was born in Los Angeles, Calif. He attended Fremont High School and, after graduating, moved to Boulder City, Nev. He worked for the Bureau of Mines before joining the U.S. Army in 1943. After completing basic training, he chose to become a paratrooper, hoping to earn an extra $50 per month.
Schlocker joined the 17th Airborne Division in March 1944. With that unit, he sailed to Europe aboard USS Wakefield, arriving in Rheims, France, later that year. On Christmas Day, the unit, traveling to Monty, Belgium, arrived in an area occupied by Germans. The 17th Airborne fought in the Battle of the Bulge. Schlocker was wounded in the foot and ears, but he continued to fight. On Jan. 6, 1945, German forces cornered his unit, capturing him and two other servicemen.
Schlocker was treated harshly during his time as a prisoner of war. He lacked adequate clothing during freezing temperatures, was subjected to hunger as well as forced labor, and watched several other POWs suffer from disease. As a Jew, he feared cruel treatment from the Germans and thus discarded his identification tag, on which the letter "H" for Hebrew was carved.
Schlocker and 3,364 fellow POWs were finally freed in April 1945 when the 44th Infantry, 106th Cavalry destroyed the gates of the prison where the POWs were held. In Schlocker's words, "they all rushed the gate in unbridled joy at liberation." For his service during the war, he was awarded a Bronze Star, a Purple Heart and a Prisoner of War Medal more than 50 years later in October 2002. Schlocker has also received a Combat Infantry Badge, a Parachute Badge and several Army Commendation Medals.
After returning to the U.S., Schlocker became a police officer in the Los Angeles Police Department and served as a reservist in the Army. He served for 23 years before retiring as a command sergeant major. Afterward, he served for 30 years with the Los Angeles Airport Authority.
During his career, Schlocker also volunteered at several institutions. He supported the Loma Linda VA Medical Center for 20 years, where he accumulated over 15,000 volunteer hours, worked five to seven days a week and was lovingly known as the "Jewish Mother Teresa." He is also a member of the American Ex-POW Organization and joined the board of directors of the Riverside National Cemetery Support Committee, supporting the construction of the Prisoner of War Missing in Action National Memorial. For his extensive volunteering, Schlocker was awarded several awards by VA.
At 97, Schlocker remains a proud Veteran.
We honor his service.