As a child, Patricia "Patty" Ortiz thought she wanted to be an astronaut.
But when she saw a television episode of Punky Brewster a few weeks after the Challenger disaster, she was positive.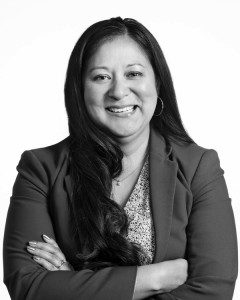 The show, with a cameo by astronaut Buzz Aldrin, was meant to reassure kids that they shouldn't give up on their dreams; that bad things happen, but brave pioneers push on. And the seven-year-old Ortiz recommitted herself to her dream of space.
After many years, she hasn't left Earth's atmosphere yet, but her work has.
In Moscow 2016, Ortiz collaborated with international partners Roscosmos and Krunichev Space Center to assess a contingency freeze scenario for the Russian segment of ISS Functional Cargo Block on the International Space Station where she was the only woman on the engineering team. The work provided an operational plan to prevent the FGB from freezing during propulsion transfer while adhering to ISS flight rules and operational products.
Now, as deputy project manager of Orion Heat Shield Spectrometer for Team Artemis ó she has a part in putting a woman and the first person of color on the Moon for the first time and establishing a base for Mars exploration.
After the Punky Brewster airing, "I really was very gravitated towards the math and science courses. Growing up, I excelled in those courses, and so I did quite a bit of making sure that I was keeping up with my math and physics courses, but I also tried to stay really well-rounded," Ortiz said.
She credits her athletic coaches and her single mom for modeling leadership and good work ethics. Ortiz is a first-generation American and first in her family to go to college. Her mother immigrated from El Salvador alone with Ortiz's three siblings shortly before the civil war broke out.
Growing up in South Central Los Angeles with a single mom and without academic guidance inspired Ortiz to join the Society of Hispanic Professional Engineers at the University of California, San Diego.
"The mission of the organization is to change lives, to empower the community through STEM awareness ó accessing it, supporting it," Ortiz said.
"I want to get these young kids excited, and to get them motivated. You know, a lot of times kids get scared of the math and physics. And it is almost crippling for them, and I hope that my story inspires young kids and motivates them to continue to study hard and pursue these STEM fields.
"We like to go out and volunteer to these lower income neighborhoods and elementary schools where the kids maybe don't have any professional role models in their lives."
Part of Ortiz' advice to young people is that "first impressions matter."
Boeing hired Ortiz same-day at a job fair when she still had three months of college left because the recruiter remembered her. She had been part of an eight-to-10 person winning team at a conference Boeing was part of, and the recruiter had been impressed. The college senior was given a written offer that day, contingent on her passing her classes.
The Artemis job came after Ortiz moved from Houston to NASA Armstrong at Edwards, Calif., in their Space Projects and Partnerships Branch and was sent to a project management training with other centers. Armstrong had been wanting to collaborate with other NASA centers to do space work, and a colleague from Johnson Space Center also at the training who met Ortiz on the training team was the branch chief of the Orion Heat Shield Spectrometer project and said they needed a deputy project manager for Artemis. Now Ortiz splits her time between the two centers, some of it remotely.
When she was hired by a NASA contractor, her mother was concerned about her youngest going all the way to Texas, but Ortiz told her she'd give it five years to see how it worked out. She stayed 13 years.
After supporting 22 successful ISS missions with her NASA work in Houston, Ortiz only got to witness one shuttle launch in Florida. In 2009 she was part of the Node 3 cupola final checkout to make sure nothing was out of configuration.
"You know, we had been so intimately involved with the hardware, the Node 3 Cupola people. I started working on that in January 2004, and to see it from design on paper to physically being able to touch it in a bunny suit before it launches was so rewarding," she said.
The move to Armstrong Flight Research Center was to be closer to her aging mother, and to put some aeronautics on her resume.
Now Ortiz will oversee Orion Heat Shield Spectrometer on Artemis II through V. Currently, JSC is building all of the OHSS box for the four missions.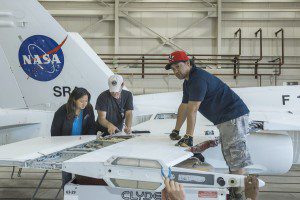 In April of this year, she will travel to Kennedy Space Center in Florida for an end-to-end test of the unit which includes "additional calibration and check-out of the OHSS box, the fiber optic cables and the heat shield optical subassembly," according to NASA.
Ortiz calls it "incredibly exciting" to be a part of the Artemis mission.
"It's a small footprint into getting boots on the Moon and that's extremely exciting to be a part of," she said.
"We don't have anyone that looks like me doing these amazing things. So, for me, it's extremely exciting to know that now the first woman will be able to land on the Moon. And — beyond, we're going to continue to explore.
"And after the Moon is Mars — we want to do everything that we can make sure that the team is safe and that we do our due diligence to design and get the hardware safely to the Moon and back.
"That's our number one priority as an Artemis team. Always."
And has Ortiz given up on her childhood dream of being an astronaut?
"I don't discount anything," she said. "The sky and beyond is the answer."
Readers can follow Patricia Ortiz at her inspirational Instagram page "Latinas Need Space."