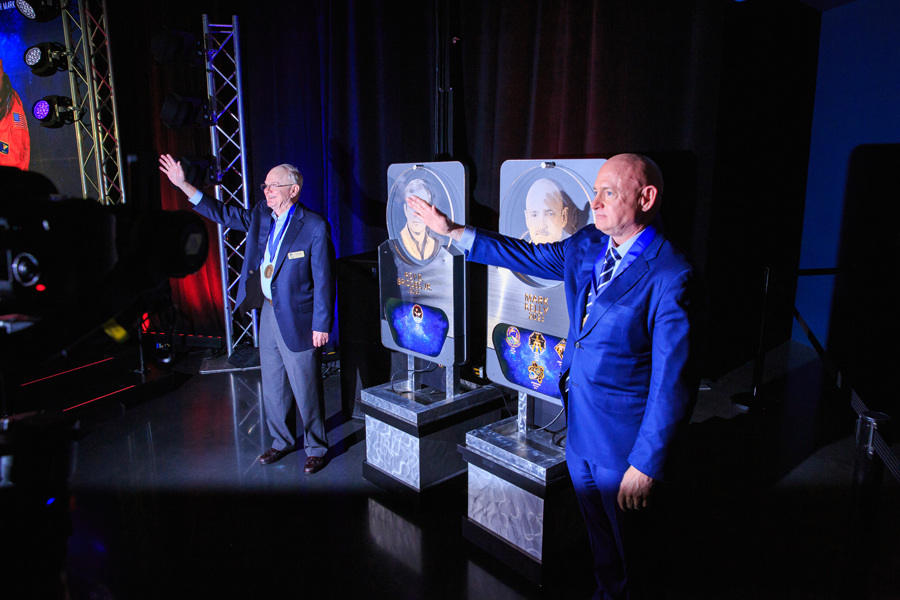 The Space Shuttle Atlantis attraction served as the backdrop for the U.S. Astronaut Hall of Fame induction ceremony May 6, 2023, at NASA's Kennedy Space Center Visitor Complex in Florida.
In attendance was NASA Administrator Bill Nelson as former astronauts Roy D. Bridges Jr., and Senator Mark E. Kelly were inducted as the class of 2023. This year's induction brings the total number of AHOF members to 107.
"As NASA astronauts, Mark Kelly and Roy D. Bridges Jr. dared us to keep looking upward and pushing outward into the unknown. After their time exploring the heavens, both continued to serve NASA and our nation," said NASA Administrator Bill Nelson. "Americans and people from around the world will continue to come to the Astronaut Hall of Fame. Many are members of the Artemis Generation who will find endless inspiration in the stories of NASA's legendary explorers, adventurers, and pioneers."
Master of Ceremonies John Zarrella praised the inductees for demonstrating outstanding accomplishments in furthering NASA's mission of exploration and discovery. Together, Bridges and Kelly have a combined 60 days in space.
"Today we celebrate the extraordinary achievements of not just two astronauts, but two very accomplished leaders who have devoted their lives to serving this country," said Kennedy Space Center Deputy Director Kelvin Manning. "This morning, I speak for the men and women of the Kennedy Space Center to offer congratulations to General Bridges and Senator Kelly, and moreover, to sincerely thank you for your leadership."
During the ceremony, Bridges and Kelly each received an official medal before being inducted as a member of the 22nd class of astronauts by former NASA astronaut Hall of Famer Curt Brown, board chairman, Astronaut Scholarship Foundation.
Hall of Famer David Leestma presented Bridges with his official medal.
"I enjoyed the many chances that I had to not only fly in space but contribute as a leader of some great organizations in the U.S. Air Force, NASA, and Industry that have made great advances in our exploration and use of space for all humanity," Bridges said. "Thank you to the Astronaut Scholarship Foundation for this honor. I never expected to be on this stage."
Roy D. Bridges Jr. (U.S. Air Force major general, NASA astronaut) retired
Roy D. Bridges Jr. was born in Atlanta, Ga., but grew up in Gainesville, Ga. He is a distinguished graduate of the U.S. Air Force Academy in Colorado Springs, Colo., where he earned a bachelor's degree in engineering science. Bridges received a Master of Science in astronautics from Purdue University in Indiana, and in May 2001, he received an honorary Doctor of Engineering from Purdue.
Bridges attended the USAF Test Pilot School at Edwards Air Force Base, Calif., from July 1970 to July 1971, following which he served as a test pilot with the Air Force Flight Test Center, also at Edwards.
From May 1986 to March 1989, he served as commander of the 6510th Test Wing (now the 412th Test Wing) at Edwards. Returning to Edwards in August 1991, Bridges served as commander of the Air Force Flight Test Center until June 1993.
Bridges was director of NASA's Langley Research Center in Hampton, Va., from August 2003 until Oct. 3, 2005. Prior to that, he was director of Kennedy Space Center in Florida for six years.
As a NASA astronaut, Bridges served as the pilot aboard space shuttle Challenger on the STS-51F mission, also known as Spacelab 2, which launched on July 29, 1985, and landed eight days later on Aug. 6. Bridges and his crew members carried the Spacelab 2 module – a payload that contained scientific instruments dedicated to life sciences, plasma physics, astronomy, high-energy astrophysics, solar physics, atmospheric physics and technology research.
Bridges is the recipient of numerous awards and honors, including NASA's Outstanding Leadership Medal and the Presidential Meritorious Executive Award.
Bridges retired as director of Langley and from NASA in 2005.
NASA Deputy Administrator and Hall of Famer Pam Melroy presented Kelly with his official medal.
"It's an honor to be inducted into the Astronaut Hall of Fame today," Kelly said. "To have played a small part in the world's greatest space program is a privilege. To have been singled out for this recognition is a true honor. I'll always be proud to have been part of the shuttle program, and being the commander of Endeavour when it touched down safely for the last time."
U.S. Sen. Mark E. Kelly, (U.S. Navy captain, NASA astronaut) retired
Mark E. Kelly was born in Orange, New Jersey, and raised in West Orange. He received a Bachelor of Science in marine engineering and nautical science from the United States Merchant Marine Academy in 1986. He received a master's degree in aeronautical engineering from the U.S. Naval Postgraduate School in 1994.
Kelly was selected as a NASA astronaut in 1996. He is the identical twin brother of Scott J. Kelly, also a retired NASA astronaut and Hall of Famer.
Kelly has accumulated more than 5,000 hours in more than 50 different aircraft, and has more than 375 carrier landings.
Kelly's first trip into space was as pilot of STS-108 aboard space shuttle Endeavour in December 2001, the final shuttle mission that year. STS-108 delivered more than 3 tons of equipment, supplies, and a fresh crew to the International Space Station. Kelly helped use the shuttle's robotic arm to lift the Raffaello multi-purpose logistics module from the payload bay and attach it to a berth on the space station's Unity node.
Kelly served as pilot again on STS-121 aboard Discovery in July 2006, the second "Return to Flight" mission following the loss of Columbia in 2003. The mission delivered the European Space Agency astronaut Thomas Reiter from Germany to the space station.
Kelly's first mission as commander was STS-124 aboard space shuttle Discovery. Kelly and his crew delivered the pressurized module for the Kibo laboratory to the space station. The module was the largest component of the lab for JAXA (Japan Aerospace Exploration Agency). Kelly served again as commander for STS-134 aboard the final flight of space shuttle Endeavour in May 2011. The Alpha Magnetic Spectrometer (AMS) was carried in the payload bay and installed on the outside of the space station. AMS is a 15,000-pound cosmic particle detector that will help researchers study the formation of the universe and search for evidence of dark matter and antimatter.
During shuttle missions, Kelly traveled more than 225 million miles, and orbited the Earth about 754 times over more than 51 days.
Kelly is married to former U.S. Congresswoman Gabrielle Giffords.
The 2023 inductees were selected by a committee of Hall of Fame astronauts, former NASA officials, flight directors, historians, and journalists. The process is administered by the ASF, which was founded by the original seven Mercury astronauts in 1984. To be eligible, an astronaut must have made his or her first flight at least 17 years before the induction and have been retired from NASA for at least five years. Each candidate must be a U.S. citizen and a NASA-trained commander, pilot, or mission specialist who has orbited Earth at least once.
The ASF has awarded more than $8 million to more than 700 college students majoring in science, technology, engineering, and mathematics, or STEM, studies.