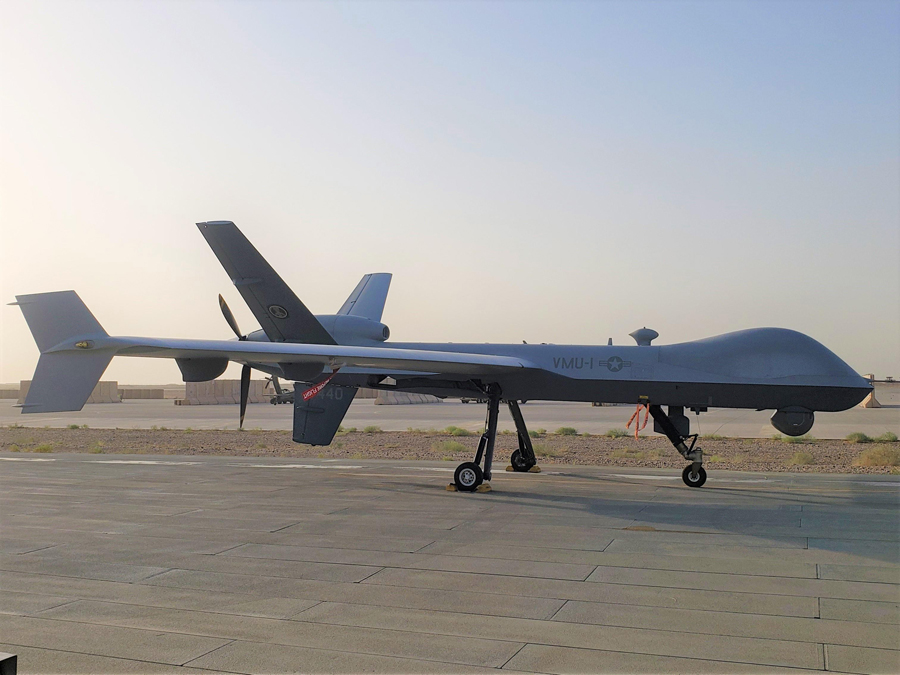 The U.S. Marine Corps recently received the first of eight MQ-9 Reapers, which was delivered under a joint contract with the U.S. Air Force.
The Navy's Multi-Mission Tactical Unmanned Air System program team at Naval Air Station Patuxent River, Md., leveraged the U.S. Air Force's Agile Reaper Enterprise Solution, an Indefinite Delivery, Indefinite Quantity type contract, to procure U.S. Air Force MQ-9 Reaper aircraft, associated spares, and support equipment for the Marine Corps.
The Air Force has enabled the Marine Corps to move fast standing up the Medium Altitude Long Endurance portion of the Marine Air Ground Task Force Uncrewed Expeditionary family of systems, a key component of Marine Corps Force Design 2030
"The U.S. Air Force has been a great partner and a major enabler in the Marine Corps' pursuit to acquire group 5 UAS," said Lt. Col Leigh Irwin, Marine Corps MQ-9 program director for PMA-266. "Group 5 UAS will give the Marines the ability to conduct ISR [intelligence, surveillance and reconnaissance] and network extensions in support of the MAGTF in support of stand-in forces and the Joint Force."
Marine Unmanned Aerial Vehicle Squadron (VMU)-1 in Yuma, Ariz., will utilize this aircraft for operational missions overseas, she said.
The MQ-9 Reaper is filling an immediate need for a long-range, long-endurance, land-based Group 5 UAS to conduct ISR and data relay in the Indo-Pacific Command area of responsibility.
Currently, the Marine Corps has two operational MQ-9A aircraft to support a wide range of operations such as coastal and border surveillance, weapons tracking, embargo enforcement, humanitarian assistance/disaster relief, peacekeeping and counter-narcotic operations.