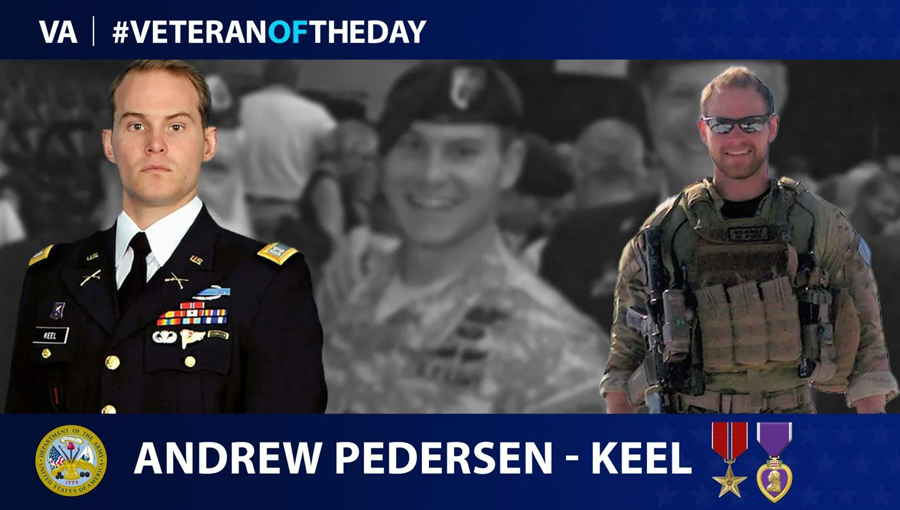 Andrew Pedersen-Keel was born in Miami, Fla., in June 1984 and was raised in several cities across Connecticut. He attended Avon Old Farms High School and, after graduation, enrolled in the United States Military Academy. He was commissioned after earning a degree in American legal studies.
Pedersen-Keel completed basic officer training at Fort Benning, Ga. Afterward, he joined the 3rd Brigade, 1st Infantry Division, at Fort Hood, Texas, serving as an infantry rifle platoon leader. A few months later, he deployed to Afghanistan with A Company, 2nd Battalion, 2nd Infantry Regiment. During the deployment he transferred to 3rd Platoon, B Company. In that role, he led more than 100 combat foot patrols as well as three air assault operations.
After returning from Afghanistan, Pedersen-Keel served as an administrative officer with the 3rd Brigade, 1st Infantry Division, and he subsequently completed the Maneuver's Captain Career Course and the Special Forces Qualification Course. In August 2012, he returned to Afghanistan as an Operation Detachment commander. Approximately seven months later, in March 2013, he was killed when an Afghan citizen accessed the weapon of a police pickup truck and used it to fire at Pedersen-Keel's Special Forces team. He was 28.
Pedersen-Keel earned two Bronze Stars, a Combat Infantryman Badge, an Army Commendation Medal and more. Posthumously, he earned a Purple Heart and a third Bronze Star. In 2021, he was recognized at NASCAR's 600 Miles of Remembrance where his name was on the front of the #52 car during the race.
Beyond his military career, Pedersen-Keel loved traveling, concerts, spending time with friends and working on his new house. He is survived by his parents, sister, fiancé and several other loved ones.
We honor his service.