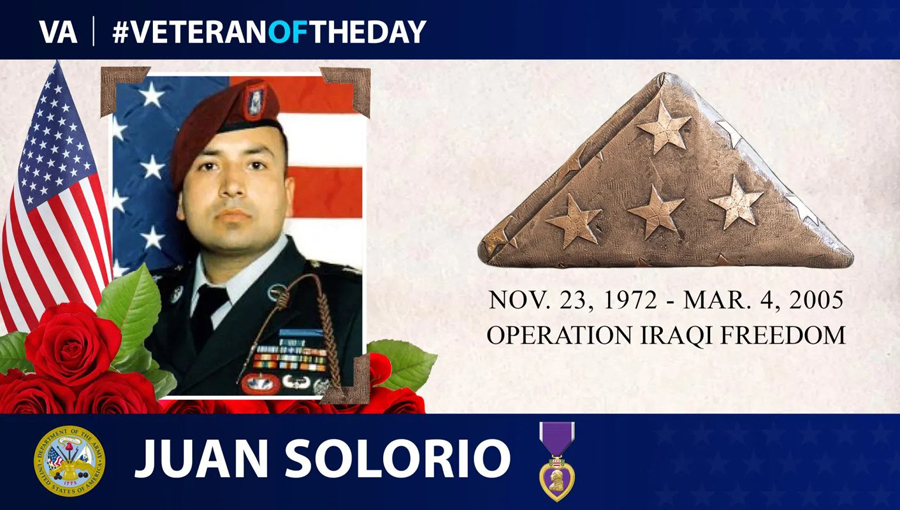 Juan Solorio was born on Nov. 23, 1972, in Dallas, Texas.
He was assigned to 3rd Battalion, 21st Infantry Regiment, 1st Brigade, 25th Infantry Division, Fort Lewis, Wash. According to military.com, he was killed on March 4, 2005, in Mosul, Iraq, when an improvised explosive device detonated near his military vehicle as his unit was being attacked by enemy forces. Solorio served as a sniper instructor before he deployed to Iraq in October 2004.
He was 32. According to the Associated Press, Solorio was the 144th Texan to die in Iraq since March 2003.
Prior to enlisting, Solorio graduated from a Dallas Magnet high school with an emphasis in health care professions, but he enlisted in the Army in 1993 and never looked back. Solorio decided to make the military his career. His duty assignments included Fort Hood, Texas, Schofield Barracks, Hawaii, Fort Bragg, N.C., and Fort Lewis, Wash. His career included deployments to Japan, Thailand, Haiti, Egypt and Iraq.
An avid outdoorsman, Solorio spent his off-duty time camping, hiking and rock climbing. He also was a scoutmaster for Boy Scout Troop 62 and Cub Scout Pack 461, so he could spend quality time with his sons, 11-year-old Julian and 8-year-old Maximilian. In a statement to the Associated Press in 2005, his wife Gabby described him "as an extraordinary son, husband and soldier. He died with his boots on, and we would have it no other way." Solorio and his wife would have celebrated their 12th wedding anniversary on March 18.
Solorio was awarded the Bronze Star Medal and the Purple Heart posthumously. He also earned the Combat Infantryman Badge, Air Assault Badge, and Jump Master Badge.
Army Staff Sgt. Juan Solorio was laid to rest at Dallas/Fort Worth National Cemetery.
We honor his service.