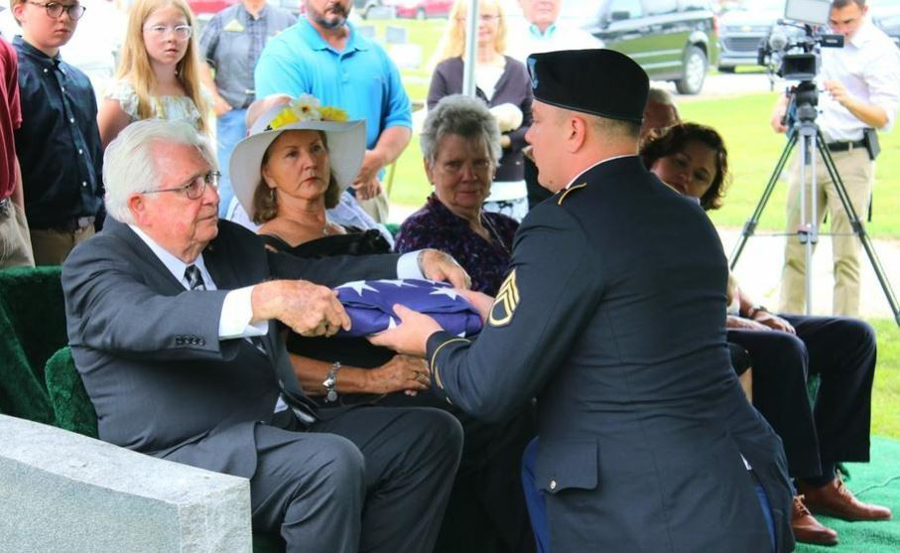 A WWII hero has finally been laid to rest in his hometown of McGehee, Ark.
U.S. Army Air Forces Staff Sgt. Ralph D. Kolb, aged 19, was buried with full military honors at McGehee Cemetery in Southeastern Arkansas, on Wednesday, June 14, 2023.
Kolb was assigned to the 343rd Bombardment Squadron (Heavy), 98th Bombardment Group (Heavy), 9th Air Force as radio operator on a B-24 Liberator bomber during World War II. On August 1, 1943, during Operation Tidal Wave, his bomber was hit by anti-aircraft fire and crashed in Ploesti, Romania. Romanians in the area buried the remains of service members in a local cemetery. His remains were not identified following the war.
Over 79 years later, on Sept. 14, 2022, Kolb's remains were accounted for. Kolb's remains were identified by scientists from the Defense POW/MIA Accounting Agency using anthropological analysis, as well as circumstantial evidence. Additionally, scientists from the Armed Forces Medical Examiner System used mitochondrial DNA and Y chromosome DNA analysis.
Kolb's nephew, Harold Kolb Jr., it welcomed the news that his uncle was finally accounted for: "It's great to finally have him home where he belongs," said Harold.
During the funeral service eight Soldiers from 66th Forward Support Company, 3rd Battalion, 13th Field Artillery Regiment, 75th Field Artillery Brigade, Fort Sill, Okla., performed duties as pallbearers, rifle team, bugler and flag team. Two Soldiers from Headquarters and Headquarters Company, 489th Engineer Battalion, Camp Robinson, Ark., served as casualty assistance officer and public affairs officer for the service.
Kolb's awards included the Distinguished Flying Cross, Air Medal with one Oak Leaf Cluster, and the Purple Heart.