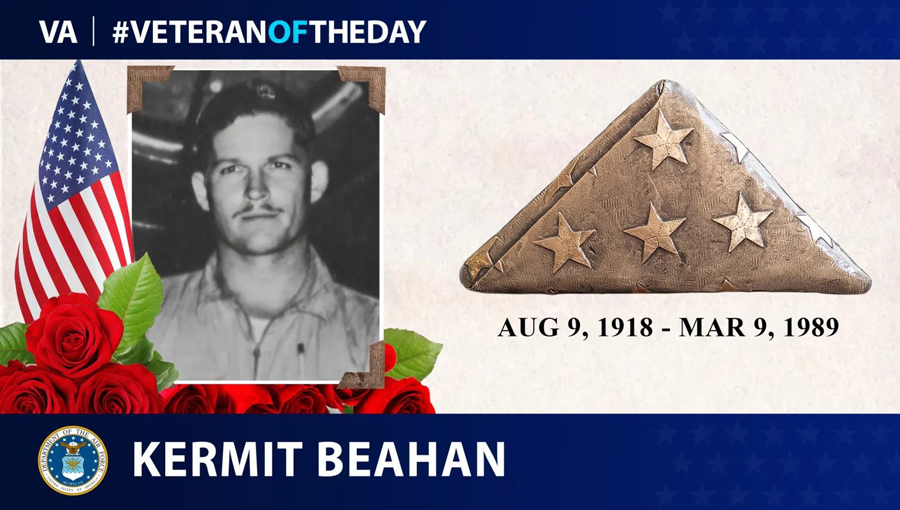 Kermit Beahan was born Aug. 9, 1918, in Joplin, Mo.. He played football for Rice University before enlisting in the U.S. Army Air Corps in 1939. At the time of the attack on Pearl Harbor, Beahan was serving as a bombardier instructor.
Beahan initially served in the European Theater before being recruited by Col. Paul Tibbets to be part of the group that would eventually drop the atomic bombs on Japan. By the time he flew on the Nagasaki mission, he had been shot down four times. Charles Sweeney, who would pilot "Bockscar," recalled of Beahan, "He was the sparkplug of our crew. We all loved him. We called him Honeybee because he was so likable."
On his 27th birthday, Aug. 9, 1945, Beahan flew into history with "Bockscar," and was credited with saving the mission from failure by finding an opening in the clouds so that he could complete his required visual verification of the target. With the target confirmed, Beahan pulled the lever and released the bomb.
"I saw a mushroom cloud bubbling and flashing orange, red and green," Beahan later recalled. "It looked like a picture of hell. The ground itself was covered by a rolling black smoke. I was told the area would be destroyed, but I didn't know the meaning of an atomic bomb."
Kermit remained in the Air Force until 1964, when he retired at the rank of lieutenant colonel. While touting the atomic bombings as the "best way out of a hell of a mess," he said that if he ever met a survivor of the attack, he "would sincerely say I am sorry."
Beahan died of a heart attack in 1989 at age 70 in Clear Lake City, Texas.
We honor his service.