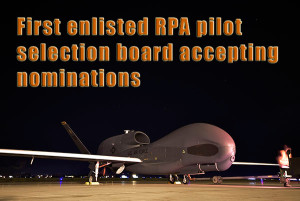 The Air Force is accepting nominations to fill its first class of enlisted remotely piloted aircraft pilots as part of a deliberate approach to enhance the Intelligence, Surveillance and Reconnaissance mission.
The first enlisted RPA pilot selection board will convene at the Air Force Personnel Center, Jan. 23-26, 2017, with application packages due to AFPC by Nov. 18. The selection board process mirrors that of the undergraduate flying training program and allows candidates time to complete all eligibility requirements.
"The Air Force will take advantage of this opportunity to integrate enlisted pilots into the RQ-4 Global Hawk community," said CMSgt. Eric Rigby, Enlisted Aircrew Assignments Chief at AFPC. "RQ-4 is the most established of our RPA communities and presents an opportunity to posture our force in a new way for the dynamic future operating environment in Air, Space and Cyberspace." 
Applicants must be staff sergeant through senior master sergeant from the 1A and 1U career fields and have six years of retainability upon course graduation.
"We have an incredibly talented pool of enlisted Airmen, and we're confident that a rigorous selection process will yield excellent enlisted aircrew who will continue to provide combatant commanders with the ISR they need to win today's fight," Rigby said.
The end-goal is to have the RQ-4 Global Hawk enterprise manned by a majority of enlisted pilots in day-to-day operations with key leadership positions filled by officers experienced in the ISR mission set.
"We have incorporated lessons learned from integrating enlisted Airmen into space and cyber mission areas," Rigby said. "This proactive step will make the most of the capabilities of our enlisted force to provide options that build a more agile ISR force in the future."
Search for eligibility and application requirements on myPers with the keyword "Enlisted RPA."
For more information about Air Force personnel programs, go to the myPers website at https://mypers.af.mil/.