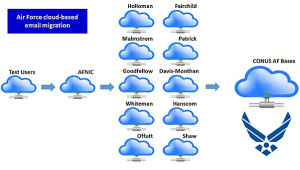 The dreaded "your mailbox is full" message is soon to be a thing of the past under a recent directive by the Air Force Space Command to realign resources to more critical priorities and outsourcing services like email.
The Air Force Lifecycle Management Center (AFLMC) and Air Force Network Integration Center (AFNIC) partnered with industry under the Collaboration Pathfinder project to test the Air Force's ability to outsource collaborative tools such as email, Lync, and SharePoint to cloud-based services.
Email is the first of the Microsoft Office 365 services the Air Force is migrating to a cloud-based service. An initial test began with AFNIC last year and the team recently completed migrating the first full Air Force base.
"The goal of the project is to increase capability and flexibility for our users," said Markus Rogers, the AFNIC executive director.
One key benefit of moving email service to the cloud is an exponential increase of individual storage capacity. More than 200 AFNIC users who previously had 100-megabyte mailboxes in the Air Force Network (AFNet) now have 100-gigabyte capacity, plus an additional 100 GBs of archive storage, in the cloud. As a result, they will now be able to hold 2 million normal emails in their mailbox and another 2 million in their archive.
"For the typical Air Force user, that's an increase of 2,000 times the current capacity, which is like going from a two-drawer filing cabinet to an entire warehouse," Rogers said.
Feedback thus far has been positive during testing and initial migration.
"I'm extremely pleased with the migration so far. I have used only 8 GB of my mailbox so it is nowhere near full, which is unlike my former account. The search function seems more robust and finds emails more accurately and I'm able to access everything from home, which has been extremely beneficial," said Robert Poulin, a test user for AFSPC.
"We've completed the 'first-to-test' phase of agencies, and have started migrating 10 other continental United States Air Force bases: Holloman, Malmstrom, Goodfellow, Offutt, Whiteman, Fairchild, Patrick, Davis-Monthan, Shaw, and Hanscom," Rogers said.
Holloman AFB in New Mexico became the first installation to fully migrate on Jan. 27. When all those installations come online, that will equate to approximately 68,000 registered users.
No major system migration is without its share of challenges in the initial phase, which is why gathering information and applying lessons learned from users throughout the migration process will help lessen conversion issues as other bases are brought online.
To better understand the migration, AFNIC tested the system first.
"With an effort of this magnitude, we thought it best to test the waters and identify any major pitfalls here at AFNIC before affecting the broader base of our users," Rogers said.
This experience has helped to plan the implementation of other cloud collaboration tools such as SharePoint, One Drive, and Skype for Business (which replaces Lync).
"We're taking a deliberate-phased approach and don't plan on accelerating migrations until we are confident that the key capabilities and tools required for a positive user experience are fully operational in the cloud environment," said Lt. Col. Randy Flores, the AFLCMC Program Management Office program manager.
In addition to resolving conversion issues, testing the system also revealed some unanticipated solutions within AFNet.
"We've identified and fixed systemic problems on the AFNET and are pioneering audits and remediation processes to improve service in the future, which is a great example of why change is good," said Dennis Polansky, the AFNIC Service Transition project manager.
The new cloud-based system will offer greater storage options, along with support for mobile devices and thin clients, without compromising strict security requirements while adding redundant power, facilities, and components with a 99.9 percent uptime reliability rating.