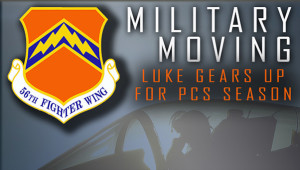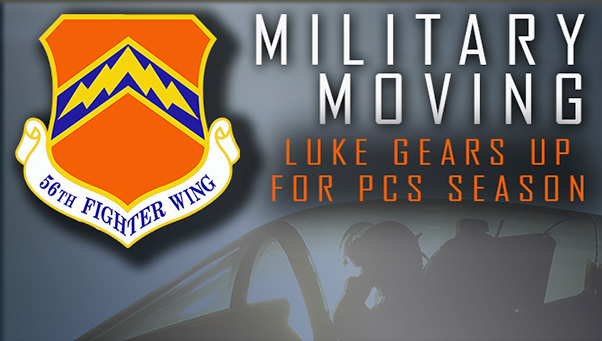 Summertime in the Air Force is often referred to as "PCS season," the time when a high volume of service members and their families are making a permanent change of station to a new base.
The 56th Logistics Readiness Squadron held an annual briefing for approximately 25 different local moving companies, March 28, 2017, at Luke Air Force Base, Ariz.. The briefing covered proper procedures, maintaining standards and creating a smooth move for service members who will be enduring a PCS in the coming months.
"This gives the companies an opportunity to ask questions and go over any problems they may have or want to address during the peak moving season," said Alicia Clark, 56th LRS personal property chief.
According to Clark, bringing the local moving companies together helps identify any trends or issues that they or Airmen may be experiencing during a PCS. Having proper communication between the Air Force and local companies helps ensure Airmen that their items are in good hands during a PCS.
"This is nice because it gets us all on the same page and it prepares us for the upcoming season," said Rose Kohl, Olympian Worldwide moving and storage military government manager. "We do everything we can to make it simple and easy for service members."
Kohl explained the willingness of LRS to focus on the quality of the move and always improving the experience through education and communicating with local movers.
"Whenever we have any kind of problem, LRS is there to help," Kohl said. "If we didn't have them helping us along the way, it just wouldn't work."
As soon as Airmen receive orders, they should contact LRS to coordinate their move, explained Clark. While the typical PCS requires a 21 day notice, during the peak season it can sometimes get as high as 30 or 40 days.
"The sooner Airmen contact us when they get their orders, the better," said Clark. "They can go online, call us or come into the office."
According to Kohl, while making a PCS can be stressful, Airmen have the opportunity to make it an easy transition by taking the proper steps with LRS.
"Our whole purpose and goal is to take care of the service member and their families the absolute best way we can," she said.
Airmen who receive orders can visit www.move.mil for more information.