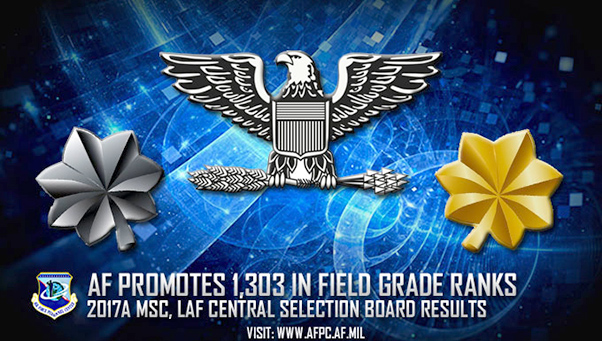 The U.S. Air Force has selected 1,303 active-duty officers for promotion to colonel, lieutenant colonel and major during the 2017A Colonel Medical Service Corps, Lieutenant Colonel Line of the Air Force and Medical Service Corps, and Major Medical Service Corps central selection boards. 
The boards selected 13 lieutenant colonels for promotion to colonel, 1,254 majors for promotion to lieutenant colonel and 36 captains for promotion to major. 
To view the lists, go to myPers, select "Active Duty Officer" from the drop down menu, search "Promotions Home" and scroll down to the promotion select lists. 
For more information about Air Force personnel programs, go to myPers.