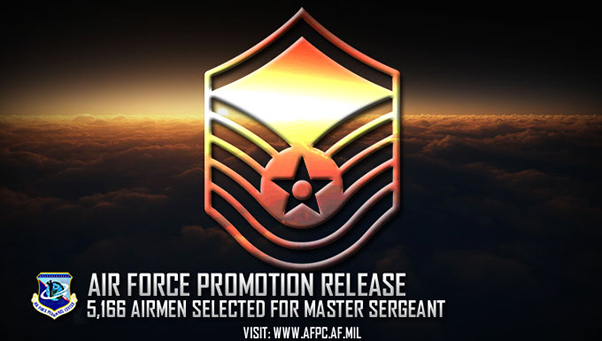 The U.S. Air Force has selected 5,166 technical sergeants for promotion to master sergeant of the 20,169 eligible.
The overall selection rate was 25.61 percent, with an average selectee overall score of 523.22. Selectees' average time in grade was 3.86 years, time in service was 14.36 years and the average decorations score was 11.42. Additionally, the United States Air Force Supervisory Examination average score was 71.46 and the average board score was 374.48. 
The master sergeant promotion list is available on the Air Force Portal and myPers. Airmen can also access their score notices on the virtual MPF via the secure applications page. 
Selectees will be promoted in order of promotion sequence number beginning Aug, 1. 
For more information about Air Force personnel programs, go to myPers.