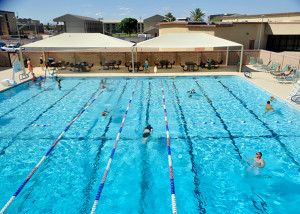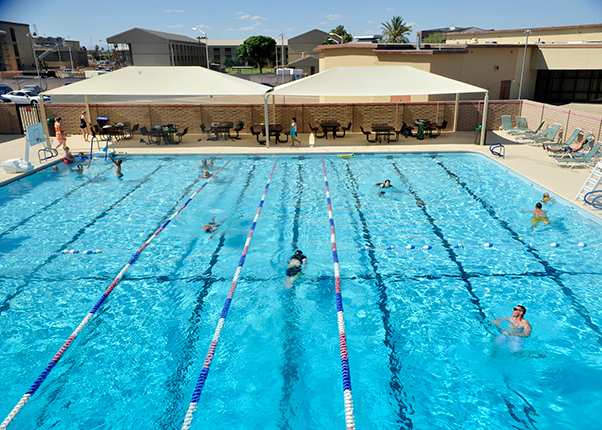 With temperatures on the rise, the Silver Wings Pool at Luke Air Force Base, Ariz., is scheduled to open May 29, 2017 at 6 a.m.
The pool will remain open throughout the summer until Labor Day.
"Anyone who has access to the base can use the pool," said Sam Harvey, 56th Force Support Squadron Outdoor Recreation manager. "This year admission to the pool is free all you need to do is sign in."
Outdoor Recreation offers private and group swimming lessons, scuba class and water aerobics class all for a fee.
"During the time the pool is open we'll have three scuba classes, host a Fourth of July celebration, a Beat The Heat day June 17, a triathlon Aug. 19 and we're planning a single Airman pool party," Harvey said. "The opening will benefit Airmen by giving them another way to relieve stress or stay physically fit. We want to keep Airmen energized and entertained."
On average 2,500 people come and swim laps at the pool over the summer.
While the pool is open, the 56th Civil Engineer Squadron will maintain the pool's water supply.
"I'm happy the pool is opening because it's definitely something that's needed especially here in Arizona where it gets as 100 to 110 degrees," said Jessica Burnett, 56th CES water plant operator. "It's also beneficial for Airmen to have some place to swim on base rather than having to find somewhere else to. It's usually not as crowded at the pool on base either. We do this because we believe in putting Airmen and their families first by giving them the chance to cool off and have a good time."
The hours for Silver Wings Pool are:
Monday through Thursday 6 a.m. to 7 p.m.
Friday 6 a.m. to 9 p.m.
Saturday 11 a.m. to 9 p.m.
Sunday 11a.m. to 7 p.m.
Open swim starts at 11 a.m. daily.
For more information, call Outdoor Recreation at 623-856-6267.