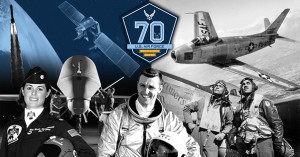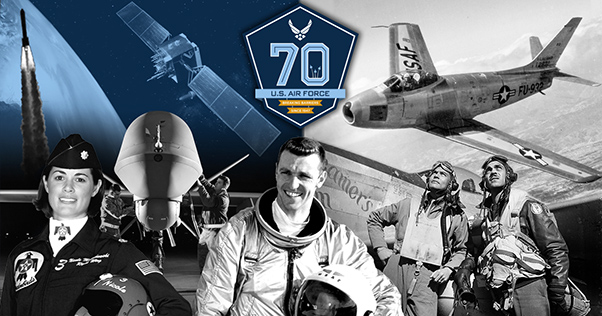 Sept. 18, 1947, is seen as the official birth of the Air Force which has a rich history that revolutionized how the U.S. military functions as we know it today.
Today's Air Force is comprised of more than 680,000 Airmen, made up of active duty, reservists, guardsmen and civilians all who have answered our Nation's call to Fly, Fight and Win.
To showcase the 70 years of barriers the Air Force has overcome to dominate air, space and cyberspace domains, Thunderbolts are scheduled to come together Sept. 9 in observation of the Air Force's Birthday at the 2017 Luke Air Force Ball.
"Airmen can expect an awesome night of comradery with decorations, unique entertainment and a heritage presentation," said Captain Katrina Baumann, 56th Medical Operation Squadron staff physical therapist and an organizer of this year's ball. "This is an opportunity to have fun and celebrate the Luke community including the numerous organizations in the Phoenix area who support us."
Members of Team Luke have been contributing to the setup and organization of the event non-stop since May.
"Collectively, we have spent a few hundred hours planning, designing, researching, attending meetings, and putting together gifts, decorations and many other details of the event," Baumann said. "It's the 70th anniversary! The ball is going to be a birthday celebration with good music, cool prizes and giveaways."
All Thunderbolts are encouraged to celebrate the courageous Airmen that have refined the Air Force mission through their blood and sacrifice, ensuring the unique contributions of Airpower will endure long into the future.
To learn more about the 70th anniversary visit: www.af.mil/70
Details for Airmen who have RSVP'd to the event are as follows:
Social hour begins at 5 p.m.
Main events begin promptly at 6 p.m.
Wigwam Resort – Main Ballroom, 300 East Wigwam Blvd
Litchfield Park, AZ 85340
Military: Mess Dress/Semi-Formal
Civilian: Black Tie/Formal