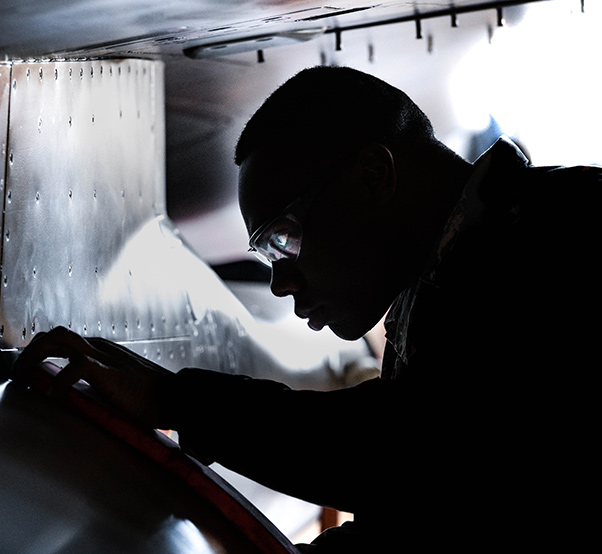 Since 1976, the F-16 Fighting Falcon has seen a multitude of maintenance improvements which have enhanced its systems, simplified costs and reduced man hours needed to keep it in the air.
In conjunction with members of Spangdahlem Air Base, Germany, Thunderbolts at Luke Air Force Base, Ariz., developed an innovative process to minimize aircraft downtime for F-16 maintenance scenarios that include foreign object recovery, seat actuator replacements and other procedures.
"Seat raises for foreign object debris are the number one driver of unscheduled maintenance for the aircrew egress section," said Master Sgt. Adam Peterson, 56th Component Maintenance Squadron aircrew egress systems section chief. "We were looking for ways to reduce the aircraft downtime by mitigating the amount of canopy and seat removals."
When foreign objects are lost in an aircraft cockpit, a checklist dictates the raise or tilt of the ejection seat assembly to help facilitate the FOD search, Peterson said. This gives the maintainer more access to search, but if unsuccessful, maintainers are required to remove the entire aircraft canopy and seat. Prior to them being installed back in the aircraft, these assets must then be brought back to egress systems for visual inspections — requiring more man hours and Air Force resources.
"We received copies of a support equipment initiative that our counterparts at Spangdahlem were developing which would allow us to use a raise pin assembly instead of the legacy raise bar to suspend the ejection seat in the maintenance position," Peterson said. "This way of suspending the seat gives the maintainer substantially more access and ultimately could prevent having to remove the canopy and seat for various maintenance tasks."
Senior Master Sgt. Benjamin Vanderpuy, 309th Aircraft Maintenance Unit assistant superintendent, played the lead role in developing the seat raise pin initiative and brought his knowledge of the issue with him from Spangdahlem to Luke when he arrived in July of 2017.
"I noticed right away how often seats and canopies were being removed to facilitate other maintenance," Vanderpuy said. "I reached back to my counterparts at Spangdahlem who were already performing the extended seat raise and gathered all pertinent information to set up a demonstration with Luke leadership and start the process of implementing the initiative locally."
The seat raise pins will give technicians approximately eight inches of additional clearance to areas below the seat. The goal of the initiative is to gain enough access to search, recover FOD and prevent the removal of the canopy and seat all together.
"With the knowledge and help from Vanderpuy, we gained approval from quality assurance to locally fabricate the pins," Peterson said. "Metals technology then took the drawings and made the pins to the specifications for us to start trial fitting."
The trial fit of the prototype raise pins showed proof of concept and was vital to collecting data points and to show just how much time and money the raise pin initiative could save.
"With this initiative, we could reduce the aircraft down-time for various maintenance tasks and return the serviceable aircraft back to units quicker," Peterson said. "This directly impacts the fighter pilot training mission here at Luke and Air Force wide. Every unit that flies the F-16 could benefit from this immediately."
If the initiative is completely implemented at Luke, estimates show it will save the Air Force more than 3,400 man-hours and $200,000 annually, Peterson and Vanderpuy said.
"Our goal is to get local approval to utilize this process and start collecting data points showing the realized time and money saved," Peterson said. "Once we have that evidence, we want to use the data when we submit to the engineers for potential fleet-wide implementation."
No matter how technical operations may become or how wide global missions expand, Airmen and their ability to provide innovative solutions to complex problems demonstrates how the 56th Fighter Wing is changing the Air Force from within.