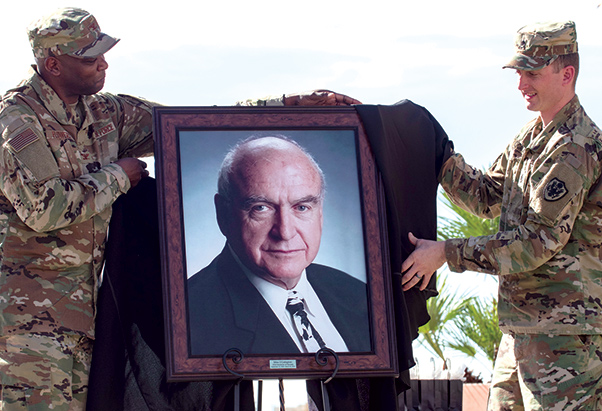 The Mike O'Callaghan Military Medical Center celebrated 25 years of operation Nov. 12, 2019, during a ceremony attended by base and community leadership at Nellis Air Force Base, Nev.
The event commemorated Mike O'Callaghan, the celebrated combat veteran and former Nevada governor for which the facility was named, and the groundbreaking for the 99th Medical Group's brand new emergency wing slated to open in the next three years.
"If you're wounded in combat or injured in any of your daily tasks, we're here and prepared for you," said Col. Alfred Flowers, 99th MDG commander. "We train, equip and deploy in order to take care of the next governor, or the next Purple Heart winner — the next Mike O'Callaghan."
Since the doors opened in 1994, the O'Callaghan medical center has consistently distinguished itself as one of the U.S. military's highest performing and most innovative medical facilities. On a daily basis, hospital staff care for 1,137 patients, perform an average of 15 surgeries, 237 radiology procedures and 2,224 lab procedures. They also attend to an average of 96 emergency room visitors, perform two births and fill 2,442 pharmacy prescriptions.
The numbers are staggering, but even still, big improvements are on the horizon.
"The series of projects we have lined up over the next three years will usher the way for us to have the American College of Surgeons certify us on our trauma capabilities." said Flowers. "We've been working very hard with the backing of the Air Force Surgeon General, who has deemed this the number one strategic priority in Air Force medicine today."
Though the hospital boasts innumerable awards and accomplishments during its first three decades in service, Airmen and employees of the 99 MDG will look to channel O'Callaghan's famous energy and vigor in facing the new challenges that lay ahead. A series of projects totaling $500 million aim to make the O'Callaghan medical center the Air Force's flagship medical facility and the Department of Defense benchmark. With new facilities and funding, the O'Callaghan medical center is on-track to be certified federally as a level III trauma center with the ability to admit and care for off-base patients. Though Nellis medics have already responded to multiple emergency situations throughout southern Nevada, this initiative is the first step towards establishing the O'Callaghan medical center as a primary community option in trauma care.
"Whether it's their medical expertise, or their training, or their boots on the ground in the neighborhood cleaning up trash and speaking to our youth, Nellis has always been a big part of our community," said Clark County Commissioner Marilynn Kirkpatrick. "Everything I love about Nevada is all right here in one spot."
Nellis' medical center is one of three structures in the state named after a man known for his energy, tenacity, ambition and dedication to his fellow man. In the face of new opportunities to innovate, the 99th MDG will work to carry that legacy forward.