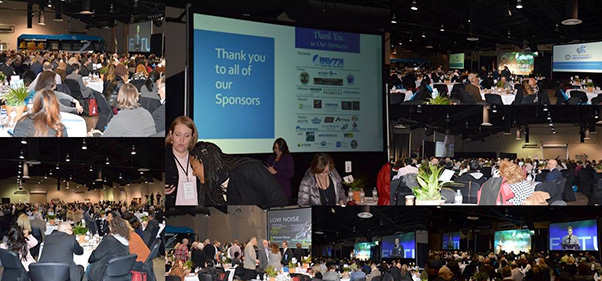 Forty-plus tables of business people and elected officials packed the spacious meeting facility in the H.W. Hunter Pavilion at the Antelope Valley Fairgrounds on Feb. 22, for the annual Business Outlook Conference organized by the Antelope Valley Board of Trade.
Attendees expectantly awaited expert forecasts on what might play out economically in the Valley during 2019. Would the scenario be boom or bust for the business community, which, like a ripple in a river, ultimately impacts the general population? Via a video, Congressman Kevin McCarthy, R-Bakersfield, delivered a message of hope for the future. He called the Antelope Valley "a place where dreams become reality."
"There are plenty of issues we can discuss," said Assemblyman Tom Lackey, R-Palmdale. Residents in the Valley have an ability to find common ground and common interest, he noted. Although everyone could have started out with diverse backgrounds, by coming together at the Outlook Conference, he contended, it's possible to achieve common sense solutions.
"One of the strengths we can capitalize on, we have aerospace. We have the expertise that can rival any place in the world. Let's create an institute here: an aerospace institute," said Lackey, taking the opportunity to advocate for establishing the California Institute for Aerospace. The assemblyman shared a vision for the local economy in which billions of dollars can be generated, not just in aerospace, but in related businesses.
Lackey told the crowd to listen for a big announcement about the Institute in the near future. His emphasis was education. Why? Because, he said, it amazes him that as an average student raised in Boron, he made it to his elected position in the California Legislature. Possibilities are endless.
Like Lackey, state Sen. Scott Wilk, R-Santa Clarita, grew up in this region. Like Lackey, Wilk has been pushing for an aerospace institute, with his focus on education to keep talent local.
"You can't unleash the future until you have a solid foundation to build the present," Wilk said. "We're not going to be getting a CSU system any time soon. We need to have educational programs here so (local students) can stay here and work here."
Wilk also touched on the inequity of funding coming to the Antelope Valley, money needed to deal with issues like the homeless population. "We have the fourth highest homeless population in the county. We're not getting our fair share of homeless funding." Making matters worse, Wilk noted that weather conditions prove problematic for people that have no shelter because of the extreme heat in summer and extreme cold in winter.
"In terms of economic growth," Wilk said, "we need to double down. We have the talent. We have the technology. We lose too many students to the University of Tennessee, Michigan and Texas. They don't come back." Yet, he noted, "aerospace today is larger than agriculture."
U.S. Congresswoman Katie Hill, D-Agua Dulce, also pitched education as well as safety.
"How can we do what's best for our community? How do we make sure America stays safe, secure and the world leader it has always been? America must prioritize safety for us, our allies and the globe."
She also said it's necessary to rebuild America's School Act. "Student loans are crippling our economy." She suggested offering refinance options to pay off student loans.
"My job is to advocate for the community," Hill said. "It can only happen if we work together."
Brig. Gen. E. John Teichert, commander of the 412th Test Wing at Edwards Air Force Base, said this Valley is at the cutting edge of STEM, an acronym for Science, Technology, Education and Math, the disciplines seen as the answer to maintaining a competitive position among advancing and industrialized nations.
"This is Aerospace Valley," Teichert said. "We need to bring back the World Class Air Show. Next week the B-2 will start getting certified in aero refueling, the process of transferring aviation fuel from one military aircraft to another during flight." He said the next generation B-21 will be tested at Edwards. And the F-15 Saudi Arabia variant was tested at Edwards.
All the accomplishments "should make you proud, because we couldn't do all of that without the power provided by residents of the Antelope Valley," Teichert said.
Lancaster Mayor R. Rex Parris said, "This year is going to be the culmination of 10 years of planning and development. We start building the most advanced, the most cutting edge tech city. We aren't weighted down by a bureaucracy that stops everything. By making this a tech city, we will be the most innovative." Four cameras will be installed on top of street lights, equipment that will capture crimes in progress with enough definition to see who the criminal is and then follow that individual to a destination.
"If a gunshot goes off in the city, within seconds the Sheriff's Department will know where it was fired and who the criminal is. It has facial recognition. It's a whole different way of law enforcement," Parris said.
Lancaster Choice Energy "has taken off," Parris said. "We reduced people's power costs. It's a growing company. Lancaster is going to lead the world in how we produce energy."
Palmdale Mayor Pro Tem Austin Bishop said two new hotels opened in Palmdale and three more are "on the way." A new housing concept in the city focuses on a walkable and sustainable housing experience. Public transportation will be footsteps away from residential structures. So will shops, restaurants and other amenities.
"We are setting a high standard for quality of life, especially because both cities are working together," Bishop said.
"The Future: Unleashed!" was the theme of this year's conference.
"This year's theme is really about what we're looking for in the future," L.A. County 5th District Supervisor Kathryn Barger said. "I believe strongly in our effort to create a business-friendly community in the Antelope Valley."
Barger said it's been wonderful working with Palmdale, Lancaster and all the town councils. "It is critical that we work together."