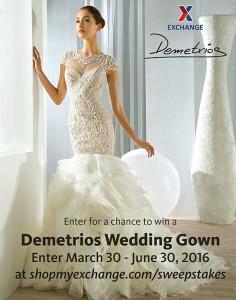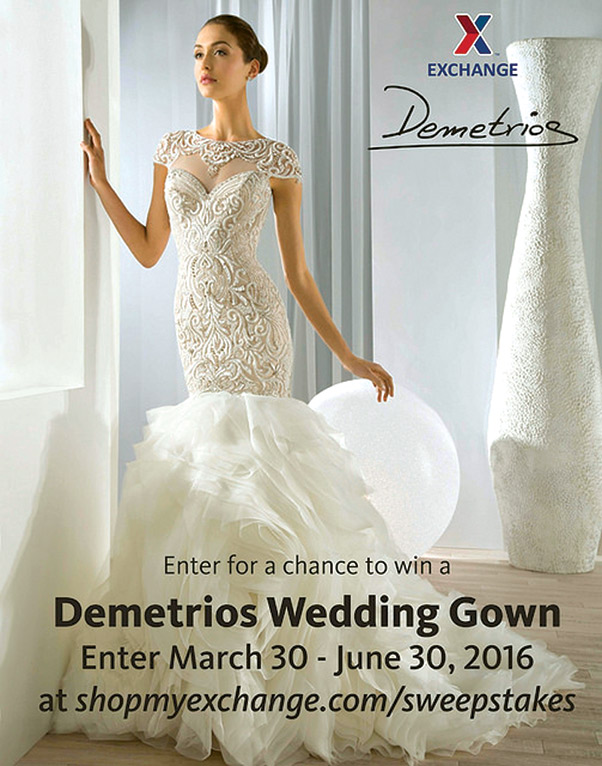 DALLAS — The Army & Air Force Exchange Service will make tying the knot extra special for two lucky couples this summer with the Demetrios Bridal Gown Sweepstakes.
Through June 30, brides, grooms and any Exchange shopper can enter for a chance to win one of two Demetrios bridal gowns courtesy of Demetrios Bridal, Asia Pacific and The Exchange.
"Almost every bride wants a dress that will take everyone's breath away with its class, elegance and beauty," said Air Force Chief Master Sgt. Sean Applegate, Exchange senior enlisted adviser. "Now, two lucky winners will have the chance to walk down the aisle in a dress with all that 'wow' factor and then some — free of charge."
Authorized shoppers 18 and older may enter the Demetrios Bridal Gown Sweepstakes at www.shopmyexchange.com/sweepstakes. No purchase is necessary.