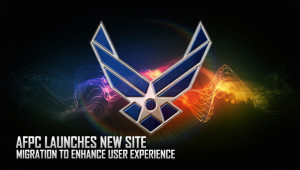 The Air Force Personnel Center officially unveiled the newest version of its public website, http://www.afpc.af.mil, Aug. 11.  
The site contains personnel news and information for current and former Airmen and civilians.  Air Force fitness policy and the dress and appearance pages are the most popular pages, followed by links to Air Force Civilian Services information.
Veterans can easily find Air Force specific information on the Board for Correction of Military Records, and Combat Related Special Compensation on the redesigned site.
The update, which comes as a result of improved web management software, gives the website increased visual appeal, improved search sorting mechanisms and most importantly, a streamlined interface to better facilitate receipt of information.
The AFPC site underwent several phases to streamline and maintain the integrity of the current site while ensuring users were still able to access information following the launch. Larger buttons and convenient links make the new website easy to navigate.
Users are now getting the best version of AFPC's public website. Updated graphics, links and modules should add an increased level of appeal across common access platforms (i.e.: desktop computers, smart phones, tablets, etc.) Connecting through various social media networks, for example, is also easier on the new website.
Feedback is always welcome and can be submitted using the "Questions" tab at the top of the home page.
Public websites across the Department of Defense fall under the DOD Public Web Program and are administered by the Defense Media Activity.
For more information about Air Force personnel programs, go to the myPers website.