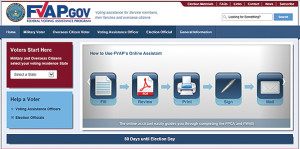 NELLIS AIR FORCE BASE, Nev. — The right to vote is an important right granted to U.S. citizens and with the elections right around the corner it is imperative for military members and their families to know that there are resources out there to make sure one is able to exercise their right.
The Federal Voting Assistance Program works to ensure Service members, their eligible family members and overseas citizens are aware of their right to vote in both local and federal elections and have the tools and resources to successfully do so from anywhere in the world.
The goal of the program is to assists voters through partnerships with the Military Services, Department of State, Department of Justice and election officials from 50 states, U.S. territories and the District of Columbia.
"Active duty member can vote anywhere," said Leon A. Spratley, 99th Force Support Squadron unit voting assistance officer. "They can vote based on where they are assigned or choose to vote in their state of residency. For example, if an individual is stationed in Nevada and has a Nevada driver's license or address they can vote in the state of Nevada without changing their residence."
Every U.S. Air Force base is required to appoint in writing an installation voting assistance officer and unit voting assistance officer. Voting Assistance Officers ensure that military and overseas voters understand their voting rights and how to register and vote absentee, and provide accurate nonpartisan voting information and assistance.
The Installation Voting Office at Nellis AFB is located in Military Personnel Flight Building Room 312 and is here to provide help and answer any questions one might have about voting.
"If one wants to come in and check their residence we can do that," said Spratley. "Also, we can help them apply for the absentee ballot and register to vote for their state, whichever state they choose to vote in."
For spouses and eligible family members the Military Spouse Residency Relief Act allows them to retain the same residence or domicile that your Service member has established so long as they also established residency or domicile in the same State. MSRRA does not permit them to choose any State.
As the family member of a Uniformed Service member, absentee voting rights are covered. This means if a member lives outside their legal voting jurisdiction process. FYAP encourages the use of the Federal Post Card Application (FPCA) to start the absentee voting process as it is standardized for use across all States and territories and will extend a member's eligibility to receive a ballot for all Federal elections in which they are eligible based on State specific guidelines. The FPCA acts as both a registration and a member can vote absentee in all Federal elections.
It only lakes a few quick steps to make sure service and family members vote is counted no matter where they are in the world. The FPCA enables members to register to vote and request an absentee ballot. Members can use the PPCA online assistant, fill out the PDF or pick up a hardcopy version from your Installation Voting Assistance Officer.
For a lot of first-term Airmen this will be the first time they are eligible to vote and Spratley encourages them to come by and so they can help them register to vote and answer any questions they might have.
"Every election is important it is your right to vote," said Spratley.  "As U.S. Citizens, we should use that voice and choose to vote."
According to Department of Defense Directive 1344.10 there are permitted political activities a member of the Armed Forces on active duty may engage in.
These include: register, vote, and express personal opinions on political candidates and public issues; encourage other military members to exercise voting rights; join a political club (even if partisan) and attend political meetings when not in uniform. (See DoD Instruction 1334.01); sign petitions for specific legislative action or to place a candidate's name on the ballot; write letters to the editor expressing personal views (so long as not part of organized letter writing campaign or solicitation of votes for or against a political party or partisan political cause or candidate). Requires a disclaimer that the views are those of the individual and not DoD; make permissible monetary contributions to a political organization, party, or committee; Display a bumper sticker on a member's private vehicle; attend a partisan or nonpartisan political fundraising activity, meeting, rally, debate, convention,
For more information concerning voting assistance, please contact your unit voting assistance officer or contact the Nellis AFB Installation Voting Assistance Office at 702-652-3120 or email at vote.nellis@us.af.mil. The FVAP website is also a huge source of information that anyone can check at www.fvap.gov.