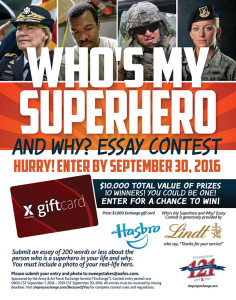 Let the Exchange know for a chance at $10,000 in prizes
DALLAS — Day in and day out, Soldiers, Airmen and their families have real-life proof that superheroes exist.
The Army & Air Force Exchange Service, Hasbro and Lindt Chocolatier are giving military shoppers a chance to tell about their real-life superheroes for their share of $10,000 in prizes.
In the Who's My Superhero And Why contest, which runs through Sept. 30, Exchange shoppers can submit an essay and photo about their real-life superhero. Ten winners will each receive a $1,000 Exchange gift card.
The worldwide essay contest is part of the Exchange's 2016 Because of You program, which celebrates military families and honors active-duty troops, allowing the Exchange to express gratitude for their service and sacrifice.
"To find true heroism, we need to look no further than our service members and their families," said Air Force Chief Master Sgt. Sean Applegate, the Exchange senior enlisted adviser. "Soldiers, Airmen and their families know better than anyone that superheroes do exist. I'm looking forward to hearing their stories."
To enter, authorized Exchange shoppers 18 and older can send essays of 200 words or less to sweepstakes@aafes.com. A photo of the real-life hero must accompany the essay.
Entries must also include the contestant's full name with middle initial; sponsor's name, rank and branch of service; date of birth; mailing address; email address; and phone number.
Entries are limited to one per person. Winners of the Who's My Superhero And Why essay contest will be notified by Oct. 30.